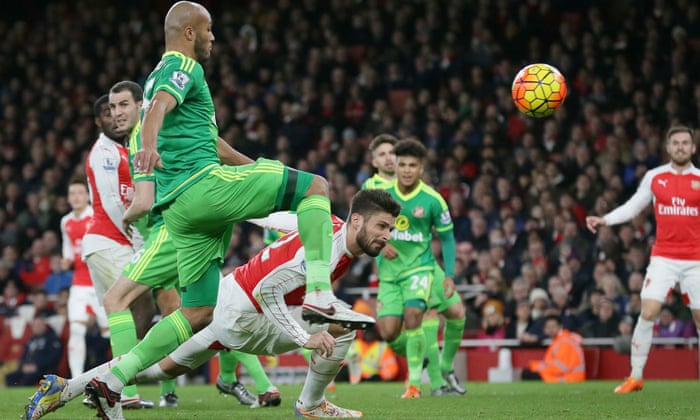 A hard fought win, three invaluable points, no further injuries and Rambo is back. There are still people out there who believe there are easy games left in the Premier League, and how wrong they are. Bournemouth beating the Chavs at the Bridge… City getting hammered by the Orcs… Manure not able to score a single goal against the Hammers at home… and that is just this week's pick of giant killing and bodily harming.
Arsenal knew they had to fight for the goals and a win today, and our winning spirit combined with team cohesion and camaraderie, go a very long way. On top of this, the players and the manager are one, and you only have to look at MU and the Chavs to realise that this is not always a given.
There are concerns about injuries and players available going into this very busy December month, and rightly so. But the area in which we have all players fit and available, our defence, we are currently underperforming the most…. Football is a strange, unpredictable game at times. Our back-five looked all over the place at times and we got away with some bad defending today, due to Sunderland not being very familiar with finding the net these days and, of course, the Cech factor. I reckon Bellerin is missing the support from Ramsey on his flank a lot; on the other hand, I wonder whether Hector Vector should play a bit more like a conventional FB, as Nacho is currently offering the strongest wing support of the two anyway…. We definitely need to play more compact and organised at the back on Wednesday, if we want to go through to the next round in the CL.
Luckily we had our shooting boots on and managed to score three goals: that is three more than MU, the Chavs and MC today, who all could not find the net despite massive player investments over the last few years. And we got those goals, despite sexy Alexis and Danny Champion of the World being injured, and Theo only playing for twenty minutes or so.
Eight Positives From the Game:
Ozil:

what is there to say that has not already been said: Mesut is in top form, on top of the world and carrying the team through a difficult mini-period. His vision and speed of thinking and acting are unsurpassed and his passion for football is never in doubt, even though he does not always show it on the outside. If you are about to have a baby-boy… call him Mesut, is all I am saying. 🙂

Rambo is back:

did you see how many times he arrived in time in the box to finish off an attack, or help to make the most of one? That is what Aaron brings and what you would expect of a B2B midfielder. Yes, he still had rusty moments and he needs to find a better balance between defence and attack (together with his DM partner the Flame), but we needed his energy and link up play so badly today (especially with both Santi AND Alexis missing). And a goal and assist make up for a couple of iffy defensive moments, don't you think?!
Nacho: what a drive and passion this guy has! Especially in the second half he just looked like an orthodox winger at times. Is there a more complete Wing-Back in the country?

Giroud

delivers again: unfortunate with the OG at the end of the first half, for which I won't blame him at all, but he made up for it with a well-timed run and a fab finish that could have easily gone past the wrong side of the post. He also had the 'pre-assist' for the all-important first goal, with a classical lay-off to Ozil, who then found Campbell with a superb through-ball.

Theo

came on and added real zest to the team: really good to see him back and he got the pre-assist for the third goal, so not a bad cameo.

Cech

was awesome and kept us in the game, both with his saves and his persona/aura. What a signing, Arsene, what a fecking brilliant signing! How many points has he saved us already this season…?
Campbell made a very good run and finished calmly for our first goal. We all had high hopes for him initially, but it is now clear that he needs a bit of time and support from us, to play himself into the team. And his all-important first goal of the game will do him good. The one that will be worried most about Campbell's gradual progress is the Ox, who once again did not convince and did not get on the assist or score sheet today. I have a feeling that the coming four weeks might determine his future at Arsenal… This is your 'Le Coq' moment, Alex..

No further injuries

, as it stands, so happy days.
By TotalArsenal.