Thin can it get?
As thin as the distance by which David Ospina kept out what would have been Spurs third goal?
As thin as a hair on the head of many Gooners' preferred manager (Steve Bould)?
As thin as the man-part of the next US President…At least by judging from the size of her hands?
As thin as the patience most Arsenal supporters have for their club?
I could go on and on and on, but, alas, there's a match to be played.  It's an FA Cup replay, that anachronistic sort of thing that maybe only the oldest and the youngest of fans probably enjoy–those who long for the old days when the FA Cup meant something and those who still enjoy watching their team play…
Question:  Where do you come down on this one?  Do you still enjoy watching Arsenal play?  What about the importance of the FA Cup?
Judging from the press coverage, the Goonersphere and recent scenes in our stadium–including plenty of paid-for-but-empty seats–I don't get the sense that many Gooners are getting much pleasure from their efforts at support these days.  If anything, it's a bit more akin to watching a car crash and being unable to look away.  That's what 1 point from 9 in the league and home shut outs in cup competitions will do to you.  On the other hand, the might be a little glimmer of hope after coming back from a goal (and a man) down at White Hart Lane.  Even if it's not enough and even if it was torture at the time, snatching something back from that lot has to feel at least OK–if you got the least bit of red blood (with white sleeves…) running through your veins.
Could Alexis' goal be the moment we turned this thing around?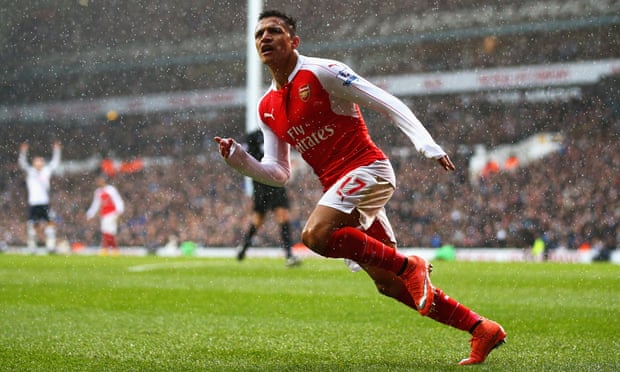 If it is, we must acknowledge that it's been a steep descent down there to rock-bottom–and it all began with the nil-nil vs Hull in our stadium which has led us to this replay.
At the time it sounded like a good draw: lower league competition on our home pitch, the perfect opportunity to build upon our last-kick win over league leaders Leicester.
Alas, nil-nil that day and then losses to Barcelona, ManUnited and Swansea before shipping a lead by way of Francis Coquelin's daft 2nd yellow.  Thank dennis that we got the point–and took two out of Spurs' hands.
Must win tonight…but it won't be easy.
Hull are a strong team but they've fallen from the top of the Championship table and currently sit in third place, three points away from the automatic promotion positions.  As much as we don't fancy an extra match, they may want it even less, except, of course, as a springboard towards getting back on track for a top two finish.  As we know all too well, a poor effort in front of the home support creates it own toxicity.  Manager Steve Bruce might want out of this competition but advancing at the expense of a so-called big club would only enhance Hull's belief.
Belief–Exactly what Arsenal require too.
Alexis' goal might help the player and many are saying that we should keep playing him to get him back to the prolific form we remember.  Does the same go for Aaron Ramsey who, before Saturday's opener, hadn't scored since that 3-3 draw up at Anfield?  He's been rested for these FA cup matches but the manager may want to try and keep his mojo flowing too.
What about up top?  Another whose last goal was at Anfield is Olivier Giroud.  I agreed with all elements of Total Arsenal's line-up (see previous post–and comments) but thought that Wenger might want to make Theo Walcott his #9 tonight.  After all, Hull are playing at home and may feel alright about pushing up and living or dying with an aggressive, attacking strategy and a back line that Theo might get in behind.  Giroud, of course, is a good shout too, especially if Mesut Ozil is also rested, as he has been for the entire cup run.  That back-to-goal, hold-up stuff, he does might help ease some of the burden if Alex Iwobi goes in the #10 spot.
What do my fellow Gooners think?  Who should play and who should sit (and who should be rested or left completely out of the squad)?  I'll post the actual line-ups as soon as they're out.
Here's what TA and I came up with as a predicted line-up:

(My) subs: Macey, Monreal, Ozil, Ramsey, Reine-Adelaide, Welbeck, Ollie/Theo
ACTUAL LINE-UP:
Arsenal: Ospina, Chambers, Mertesacker, Gabriel, Gibbs, Flamini, Elneny, Walcott, Iwobi, Campbell, Giroud. Subs: Macey, Monreal, Ramsey, Reine-Adelaide, Willock, Ozil, Sanchez.
OK, final questions:
Will we win tonight and, if so, how far will we go in the cup?  Or should we sacrifice tonight's match and focus on the league title chase?  Is there anybody out there who believes we could turn this season around with a domestic double?  I won't even ask about our chances on the 2nd leg down in Barcelona…
What's the current view on the manager?  Should he be gone already?  Is this a must win night (and cup…) for him or is even that (an unprecedented 3rd consecutive FA Cup) insufficient?  Are you ready for a complete remaking of this Arsenal team, including the guy in the puffy jacket?
I'm just curious, of course, and my tendencies lean toward a bit of generosity for the manager and his players.  Moreover, I believe we should take ALL matches one at a time; you know, try and enjoy the ride, rather than worrying so much about the destination, so I'm actually relatively pleased for some Arsenal football tonight.  Your mileage may vary–and it probably does. So, tell us how you see things.  Please join us in the comments section with your answers (and other ideas).  I'll be there as the line-ups are announced and the balls are kicked…
Go on then…
by 17highbury