The start of something new and better?  Time to sift through the ashes and see what we can accomplish.
Tough times for the Arsenal but at least we have another game!
It's at Everton, who are well rested and flying high after booking their tickets to Wembley with a hard fought 2-nil victory over Chelsea in the FA Cup Quarterfinals last Saturday.
Arsenal have taken a different, rather more tragic trajectory.  A day later, last Sunday, our quest for a 3rd straight FA Cup came to an end losing at home to Watford.  On Wednesday night, at Barcelona, we exited another tournament, the Champions League.  Now we face our 3rd match in just six days.
With nine matches remaining in the league and finding ourselves eleven points behind league leaders Leicester City, we know the task at hand.  All we can do is try our best to win our remaining matches and hope Leicester (and Spurs, six points ahead of us) stumble.  Let's get 'er done (as we say over here in the States).  What better than a lunchtime kickoff?
Everton have had a tough season themselves, especially in front of their home support at Goodison Park.  Beating Chelsea, with two late goals from the striker cast down their way from the wealthier team in blue, Romelu Lukaku, had to be very, very sweet.  Can they build upon that win and take down another "big" team from the capital or will the nerves of the Evertonians come to the fore?  They lost their last two home league matches (to West Ham, 2-3 and West Brom 1-nil) and only have one win from their last six.  Could they also have just a bit less fight knowing they're safe from relegation but too far back for European consideration?
What about Arsenal, are we really to believe Mesut Ozil and others who suggest we can build something over our remaining nine league matches, all that we have left to play?  It really all depends on whether or not this bare bones Arsenal team can dig deep and build upon the positives in their play, which, results notwithstanding, actually might exist.   (See the previous post here on Bergkampesque, for example.)
The alternative, giving into the narrative of failure, while tempting, must be resisted.  For this match we don't have a new manager, we don't have new players and we don't have any other easy solutions.  Do we dig the pit of our misery even deeper or do we dare to climb to its edge and take a peek at some sunlight?
I opt for the latter.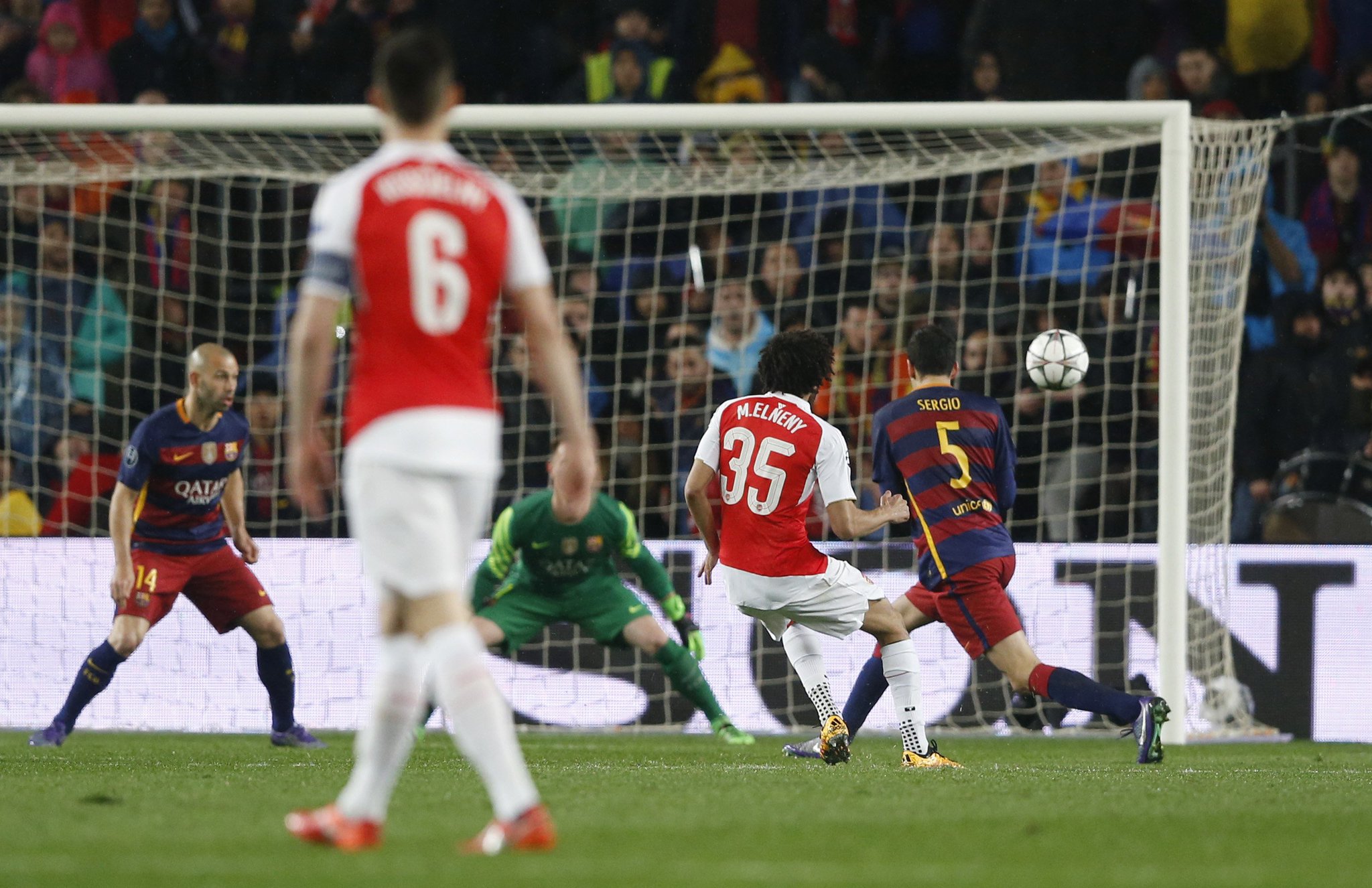 The two guys in the photo–goalscorer Mohamed Elneny and our captain on the night, Laurent Koscielny, as well as the other nine who will start at Everton (plus our three subs, if we use them) will need to lift a very depressed and despondent planet full of Gooners.  Many already seem willing to throw in the towel, blame manager Arsene Wenger (the man most responsible, perhaps, for making Arsenal a team with a global fan-base) and start fresh. No such luck.  There's a match to win.
How?
It's a question that will be very difficult to answer.  We need players who are coming into form rather than breaking down under the physical and psychological strain of the games and their gloomy narratives.  My hunch is that Wenger will go with the same group in defense and midfield that finished at Barcelona, thus changing only Francis Coquelin for our most recently injured midfielder, Mathieu Flamini, among the rear-most seven starters.
The real question is up front.  Alex Iwobi, although he played extremely well and looks a bright prospect, will take a bench seat, I think.  I'm also guessing Wenger will go with Olivier Giroud as his #9 but carry on with Danny Welbeck, Ozil and Alexis Sanchez as a very fluid but interchanging attacking midfield three just in behind big Ollie.  The big man will be needed at set pieces and as a target and hold up guy.  I expect him to often come back towards the center circle and try to win balls and advance them quickly forward to the pacier finishers. It looks like this:
Subs: Macey, Mertesacker, Chambers, Gibbs, Iwobi, Campbell, Walcott
As always that's just my guess at what Wenger is thinking.  Please share yours.
Despite sitting in the bottom half of the table, Everton are a good team with many fine players.  Guys like Lukaku and Ross Barkley, not to mention defenders such as John Stones, Phil Jagielka and Ramiro Funes Mori combine size and power with skill and technique.  Do we want more big guys to start the match (the Big Friendly German, Mertesacker, for example) in order to thwart them or do we worry more about their smaller, pacier guys like Gerard Delofeu, Arouna Kone, Aaron Lennon and Seamus Coleman?  It will be interesting to see how their manager, Roberto Martinez, tries to set them up for this one. He's won't have Kevin Mirallas nor Gareth Barry available due to suspension but otherwise he's got a lot of options compared to our injury ravaged squad.
With anchor-man Barry unavailable (likely replaced by a Muhamed of their own, the Bosnian Besic) I wouldn't be surprised to see Martinez try to play a very wide game using Coleman and Leighton Baines as fullbacks with Lukaku as their main target man in both open play and at set pieces.  As such, getting on the right side of referee Mark Clattenburg, the guy who sent off Mertesacker in a one-nil home loss to Chelsea back in February, could be another deciding factor.
Getting on top early in this match is critical as it will test the commitment and nerve of the opponent.  No matter what, however, this Arsenal team must respond to what has been happening and whatever will happen on the pitch.  Belief and determination–expressed as action–is the only thing which we can do to turn this recent run of abysmal results around and build something over these final couple of months.
Let's do it, I say.  A win in the first match of the weekend would be just what the doctor ordered–for watching the remaining matches and enduring the two weeks off for International friendlies.  So, one more (MASSIVE) push, then a little rest, relaxation and (even more) rebuilding.
Go on then…
by 17highburyterrace