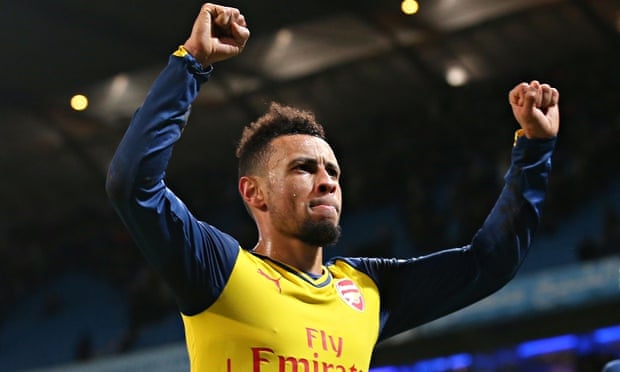 Like many Gooners on a quiet Sunday afternoon I sometimes analyse the remaining fixtures to work out what we have to do to win the league.  A few weeks back we had some tricky looking away games and the pundits declared we have the hardest run in.  Away matches at United, Spurs and Everton were not altogether appealing and following some fairly average performances the gap to Leicester is now up to 11 points, albeit we have a game in hand.
In my opinion the introduction of new blood into the squad has lifted the team spirit.  We really didn't play that badly in Barcelona and although it was a fair result, with a lot of luck we could have pinched it.  On to Goodison and a great performance by the lads.  The introduction of Elneny and Iwobi has added a new spirit to the side.  Although Gabriel looks a little clumsy at times and he keeps looking to get a spectacular oggy, he has added passion and speed to the side.  For the first time in weeks I began to feel a little positive again.  So once again I decided to do some analysing.  To my great pleasure I now believe we have the easiest run in.  Of course in a season where everyone beats everyone it's impossible to predict results with any accuracy, but here are my thoughts:
Leicester continue to stumble towards the line, but the pressure must be building.  My next door neighbour is a Palace season ticket holder.  He told me that during yesterday's game, Palace played Adebayor up front in the first half, but didn't put in a decent cross.  At half time they took Adebayor off and put Bolaise up front.  During the second half Palace put in about a dozen decent crosses in–with no centre forward to attack them.. "Tactically naive," my neighbour called it.  A good side might have taken them apart.
Leicester have 7 games remaining 4 at home, 3 away.
Home games: Southampton, West Ham, Swansea, Everton
I think both Southampton and West Ham are capable of taking a point at Leicester and Everton and Swansea are both dangerous.
Prediction = 8 points
Away games:
Sunderland
Man Utd
Chelsea
Very difficult away games; they could well lose in Manchester and London. Prediction = 3 points
Currently 66 points plus 11 equals 77 points.
Spurs, I believe, have the hardest run in of all: 3 at Home, 4 away.  They remain one or two injuries to key players away from meltdown.  This is the best Spurs team for many a year.  However Spurs nearly always crumble at this stage of the season.  Whether this side has sufficient bottle remains to be seen.
Home games:
Man United
WBA
Southampton
A draw with either United or the Saints would give them 7 points
Away:
Liverpool
Stoke
Chelsea
Newcastle
All losable; I think they will be lucky to come away with 6 points. Currently 61 points plus 13 equals 74 points
Arsenal have 8 games left: 5 at home, 3 away.
Home games.  It's a big ask but all five are winnable, so am going for the full 15 points.
Watford
Palace
WBA
Norwich
Villa
Away games:
West Ham
Sunderland
Man City
None of them are easy, but I see no reason why we can't get a point at West Ham and City.
Prediction = 5 points
Currently 55 points plus 20 equals 75 points. So my final table
Leicester: 77 points
Arsenal: 75 points
Spurs: 74 points
So, it's asking a lot, but it is still winnable.  One slip up and we could be in.  Really important that we gain momentum from the Everton game and if we could get a result at West Ham it would put tremendous pressure on the new boys above us. Maybe I am being a little over optimistic here, but I will keep an eye on my predicted results and keep everything crossed.
COYG
by retsub1