Why not?  Isn't that how football works?  Somebody has to take some responsibility. You lose, you're out.  You snooze and suddenly it's April.  Fool.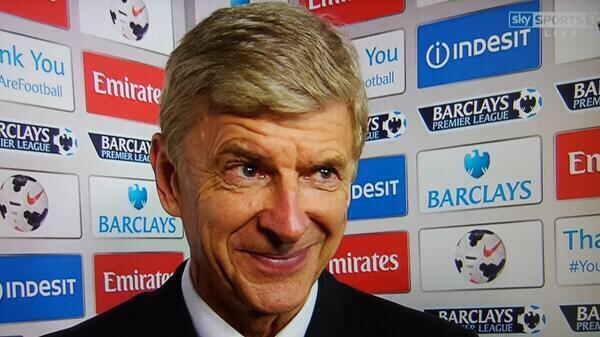 Sorry…
Back in the real world, Arsenal have a match to play.  Against Watford.  At home. This all seems very familiar.  Didn't we already do this?  What's going on here?  I thought this was April Fool's Day not Groundhog Day…
Lather, Rinse, Repeat. No matter what, it's already gone down the drain.  Or has it?
Somehow Arsene's Arsenal must play their matches with a measure of focus, one at a time, of course, and hope they can eke out victories while others above them stumble.  Can the players be arsed?  Will the supporters show up and get behind that task?  Will the players?  Can Arsenal ever get past our narratives of success (or, at least, high expectations) and failure and the divergent opinion about the man in charge?
Probably not, but at least there is some football on tap.
Will our opponent–Watford–knowing that they've already done a job in our part of North London and have a trip to Wembley as their prize–come into this one fully focused?  They sit a full 11 points above the drop zone (the same number by which Arsenal trail Leicester City at the top).  Quique Sanchez Flores' men have all but guaranteed themselves another season in the Premier League.  How does the man with the best beard in PL management (sorry, Jurgen…) return to the site of perhaps his best win of the season and prepare for a match he doesn't need to win?
For Arsenal and Wenger, facing the team that ended our multiyear run in the cup, the question must be asked differently:  When too much has already been lost, how do you prepare for a match that you cannot win?
By talking about revenge?  Cheers, Nacho…
Maybe by taking a break from the relentless negativity circling our club and going away on International duty.  Arsenal had eleven senior players called up, but Watford had ten.  In fact, our exciting youngster Alex Iwobi and Watford's Odion Ighalo both played for Nigeria.  Will both play tomorrow?
Probably.
Watford have a full three weeks before their FA Cup Semi-final vs Crystal Palace in the national stadium.  For them, our match is a chance to get players back and focused ahead of that very winnable match and a chance to represent London in the final.  Who will Sanchez Flores choose?  Your guess is as good as mine, but I would expect a team at least as strong as the one that beat us three weeks ago. Igahlo and Troy Deeney up front, Former Spurs Etienne Capoue anchoring the middle and Heurelho Gomes between the sticks, a bunch of others.  If they could beat us in the quarterfinal they will fancy their chances of getting a result on a second go-round.
So, a confident opponent with nothing to lose.  A 3 o'clock match for Arsenal with nothing to win.  In fact, if you're a Gooner and you even show up for this one aren't you in danger of showing that you accept the level of mediocrity the club is offering?  Gooners protested the earlier Arsenal-Watford and look how that one turned out.  What's on tap for tomorrow?
I have no idea.  Do you?
Wenger, I think, will put out a team very similar to the one which won at Everton, while looking for some of the urgency we showed very late in the first go-round with Watford.  Could he go even deeper towards new blood?  So far, rewarding younger guys and those who look well focused (Iwobi, Mohamed Eleneny, Danny Welbeck and Gabriel Paulista) seems to be working, as does playing Alexis Sanchez on the right.  The Chilean logged some extra frequent flyer miles traveling to South America for World Cup qualifiers as did David Ospina.  Petr Cech has returned to training leaving Wenger with a late decision at keeper.  Here's the team I think will play.
Subs: Cech, Chambers, Mertesacker, Gibbs, Campbell, Walcott, Giroud
That's just my guess, of course, what do you think?  Are there other considerations including who might be tired or banged up or who might really need some success with their club (Walcott, Gibbs, Giroud, others?) if they hope to represent (or play a large role for) their country at the European Championships?
I doubt Wenger will be too worried about individual players and their issues.  It's a team game and, as Mesut Ozil has recently said, it's the team who has screwed up.  To be blunt, Arsenal must win this one and, ideally, win it in a convincing fashion.  Spurs play at Liverpool directly after our match while Leicester host Southampton on Sunday.  We need to put up our points to create a bit of pressure on the teams above and remain fully above the fray in what's now a three way battle between the two Manchester clubs and West Ham for the final Champions League spot.
The only way to take these matches is one at a time while hoping for the best.  Many have already judged the season a failure and want change, some going so far as to hope for bad results to help see it in.  I think that is about as wrong-headed as a supporter can get.  Even if we cannot catch the teams above us we still need to play our best and try to build something match upon match.  The summer will be tumultuous enough as it is.
Placing blame and wanting to tear down and start over are always temptations, perhaps more-so as our culture moves toward ever more instant forms of gratification.  The future, however, is built brick by brick, player by player and match by match.
Go on then…
by 17highburyterrace