On an emotional day when we said goodbye to the RAF (Rosa, A Treat and the Flame) and saw starts of long-term injured super mids Wilshere and Santi, we beat sorry Villa by 4-0 whilst the Spuddies cannot even draw against the equally sorry Barcodes: we finished second – one better than last season – and were gifted an unexpected and ever so sweet late, late St Totteringham's Day. Oh how we laughed!
I only saw the highlights. Earlier in the day, I had been very emotional about Max Verstappen's first Formula One win – first time ever a Dutchman won F1 race! Two decades ago I was a big fan of his father Jos, who is a fellow Limburger and performed well for Benetton when he was partnered with M Schumacher. But Verstappen senior never managed to win a race, and for his son to do it at just eighteen and in the first time he drove the Red Bull car, is a great moment for the sport in general and for the Dutch in particular.
I cannot remember that much about the highlights other than Ollie pouncing lethally on the Villans' bad defending and Arteta getting a late assist/'own' goal for our fourth. In terms of goals in open play (so no penalties) per 90 minutes as well as goals/assists per 90 minutes, Ollie is second best in the PL; only Aguero did better. Yes, Ollie outperformed Vardy, Kane and Lukaku, courtesy of his late hat-trick. He will never look as good as Aguero or be as lethal, but with Sanchez being sixth in the open play goals per 90 minutes table (despite injury and a long period of lack of form) and Ozil being fourth in the open play goals/assists table, you can see why Wenger has stuck with the system of a 'holding CF' with whom two fellow attackers and a two midfielders work closely to produce chances for a number of players rather than the one super quality CF up-front. When Wenger discussed objectives with Giroud he will have said that creating space/chances for others is AS IMPORTANT AS scoring goals and producing assists…. If you take that into account Ollie has done very, very well, despite his winter/spring goal drought. Is there a better 'holding CF' in the league?!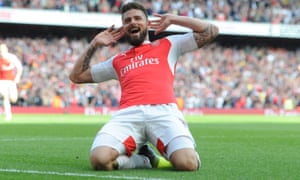 One of the big questions of the summer is whether Arsene will strengthen the wing – Ox, Theo, Campbell and (injured again) Welbeck all failed there to a large extent this season which has been very costly – OR buy a typical lethal CF and turn Ollie into a super sub. Both options excite me, and with Theo having been so peripheral and Danny out till late in the coming season at least, it is to be expected that Arsene will now buy fresh fire power in attack. It probably also means that Theo will still be here next year and Iwobi will become part of the first 11-17 squad. It should also pave the way for Akpom getting a proper chance in the team now.
And with the departures of the RAF, we are likely to see some strengthening in midfield as especially Flamini will be missed as cover for Coquelin. Cazorla could (gradually) become our experienced midfielder to help us out in the big games and provide excellent cover for the younger but also very talented midfielders Rambo and Jack, just like Rosicky and to a large extent Arteta did for us in previous seasons. But for next season I expect Santi to take up a leading role in deep midfield – the Spanish Pirlo.
Elneny and Le Coq, as well as Santi, Jack and Rambo, give us options to vary the composition of the midfield and with that the game specific tactics. If they remain all fit throughout (most of) the season, we could have a real go at the title next season. The addition of the Granit X-man would further strengthen this belief, but that is transfer speculation to which the owner of this site is very allergic.
Where I believe we will need to strengthen is in our CB area. I reckon Wenger had a BFG decision moment a few months ago when the German had crucial bad performances against the Chavs and Barcelona in quick succession. It is just a gut feeling, but I reckon Wenger decided there and then that he will need to change the CB pairing going forward. The Koz-Gab combo has done (to me) surprisingly well and Wenger may just trust that Chambers and the BFG will be good back up for the Vault of KOGA going forward, but replacing either of them, or indeed Gabriel, with a quality Sol-esque CB – one with a brain to organise and lead, power and athleticism -would be my key signing of the season.
I reckon we have made progress but, like most of us who set high expectations, feel a little bit deflated that we did not win the title. There are good reasons for this, which we can analyse in a separate post later this week, and I reckon that the loss of our central midfield enforcer Le Coq and co-creator and midfield brain Cazorla – whilst Jack, Rosa AND Arteta remained unavailable and the Flame was just not able to keep covering well enough for Le Coq for months on end – proved too much for us. The central midfield area is soooo key in the game – as also demonstrated by the negative impact of the loss of Dembele, Dier and Alli for the Spuddies in recent games – and although we hung on for a while, we lost the dominance and control of the key games, also leading to a lack of chances/goals up-front and brittleness at the back.
It also did not help that all of a sudden Ollie stopped scoring, which, like most strikers, he suffers from every season, and that Alexis and Theo were unable to find the net either during the same period. And if and when we did score the vital goal(s), we still managed to give the opposition cheap goals and drop points as a result. Luckily, Iwobi and Welbeck had a number of productive games which has kept us in the top-four when it really mattered.
On-field leadership and strength in the spine are absolutely key for next season, and the recent signing of Elneny has me very, very excited for the coming seasons. Cech-Koz/?-Coq/Elneny/Jack/Santi-Ozil/Rambo-Ollie/Sanchez/? should form an excellent strong spine with good leadership qualities going forward. Let's get a quality, experienced CB, and maybe a beast of a CF to create a super spine, and/or have an even better 'Plan B' alternative for Ollie as holding/enabling CF than Welbeck is, to further improve the spine: one that is capable of leading us  through the hard times and to glory. To further cement this we need a very good captain, and as per a recent post, I reckon that Santi and Jack should take this role on next season.
We finished second and beat Chavs in the season opener, Bayern at home, played MU off the pitch at THOF, took four points of Citeh and beat this year's champions home and away. That is progress for me and something to build further on, as hope springs eternal. Time for little relaxing Arsene dancing:
http://fuldans.se/?v=tpoljgeecn
A CB, defensive midfielder/enforcer cover and a multi-functional quality attacker CF/Winger, and let's give Akpom and Iwobi a chance to fight themselves into the first team: those are my wishes….. But are they yours as well?
Well done to the boys this season; and good luck and a big thank you to Mikel, Tomaz and Matthieu for all they did for our team over the years: three true Gunners that set our Gooner hearts on fire time and again. We will miss you and good luck!
By TotalArsenal.