Now that is the Arsenal most of us love so much: dominant, creative, strong and banging in goals left, right and centre.
After the midweek CL game, legs could have been tired and minds preoccupied, but we started the game with a ferocious tempo and appetite that drove the Tigers back in their proverbial cages and made us dominate the proceedings. When you play from home against a team that has made a good, 'against expectations', start to the season and which was rested during the week, you need to start well to set the tone and not get overwhelmed.
And that we did!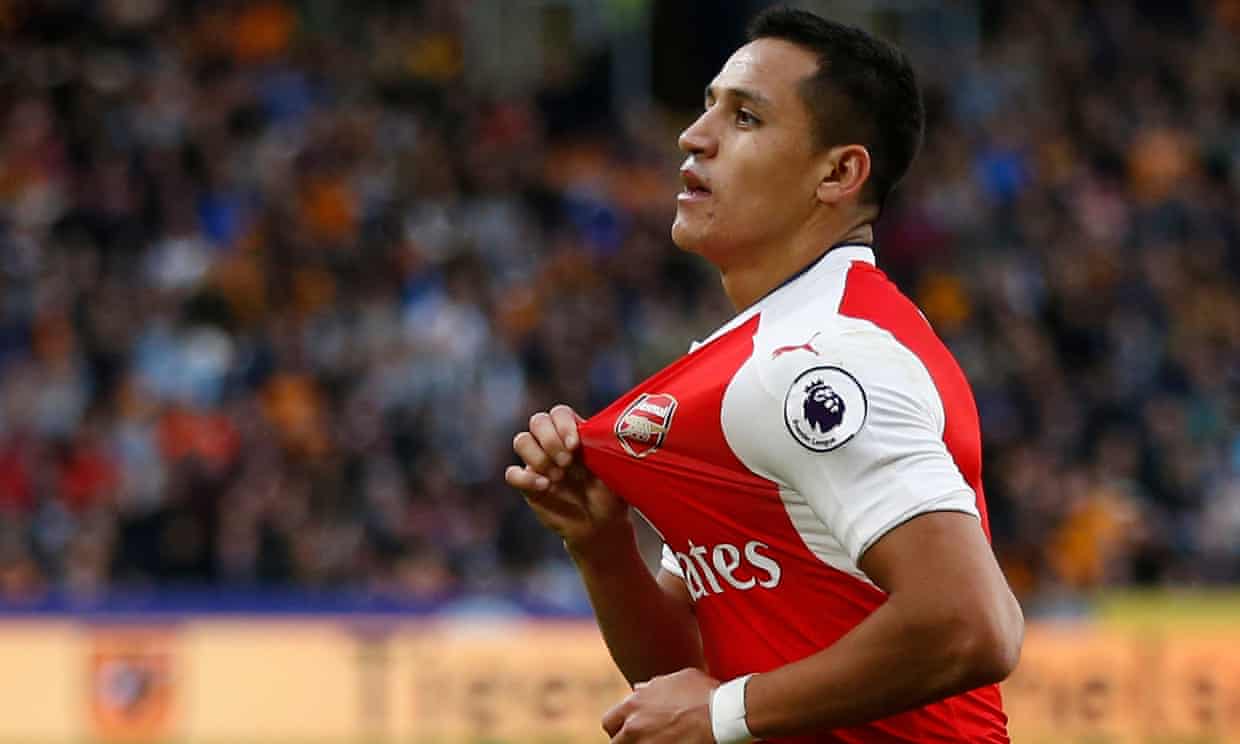 Arsene had opted for the same back five and double DM pivot as on Tuesday and for Alexis as our CF, once again. Ozil played in the hole/free movement role and two quick and energetic wingers, Iwobi and Theo, to complete the attack. A selection pattern is developing and it worked a treat this time. Rumours are that Giroud has a toe problem, either from a PSG player or Wenger's punishment for reckless behaviour on the pitch… So on the bench we had the Ox and Perez to support the attack if required. It turned out that we did not really need them. 🙂
I guess the omission of Xhaka and, to a lesser extent, Elneny still surprised many of us, as both would have been raring to go, but we can see why Wenger is sticking to his settled DM pivot couple CoqZola: they were solid and dominated the game for the first seventy minutes or so. More about this later.
Maybe more of us are starting to see why Wenger wants to play Alexis as our 'CF' this season.
His movement, running off and with the ball, constant energy and involvement in the game is making all the difference. But what I loved most of this game is that Theo and Iwobi really are starting to understand what they need to do, and especially where they need to be, when Alexis goes deep(er) to create space behind him.
Attacking football for many is a matter of getting the ball to a super CF in dangerous positions as much as possible… and he will do the rest. But it is not that simple (any more). Winning football is about dominating proceedings and creating chances – and then taking them – through creating space, excellent passing football, team pressing, and clever running off and with the ball. Anyone can score and goals are ideally spread among a number of players, so we are less predictable and dependable on the one Aguero or Ibrahimovic. If you have watched the first halves of MC – MU and Chavs – Pool, you will know what I mean. And Arsenal's first half display against the Tigers fits with these performances albeit against lesser opposition.
Of course we dominated the second half too but that was further influenced by the Livermore sending off. The only negatives of Saturday's game were the missed penalty and the penalty we gave away, totally out of the blue. But also that is football.
Eight positives from Hull v Arsenal:
Iwobi's best game in the mighty red and white colours: he played so mature and composed you would believe he has been in Arsenal's first team for years. He assisted two goals and you could argue our first one should have gone to him anyway. He has that rare ability to create time for himself when on the ball, and then he makes virtually always good decision on what to do next with his head held up. His passing and running with the ball is sharp but his sense of creating opportunities and executing them on the spot is even sharper. He also is often in the right place at the right time in and around the box, which again is very special for his age at the highest level of football. And I loved how he worked with Ozil, Sanchez and Theo. My MOTM;
Alexis' ability to create space and link midfield with attack AND Theo's and Iwobi's ability to benefit from this and link up with the fabulous Chilean (as already explained above). Before the game Arsenal had the best conversion rate of the league, and with four goals from nine attempts on target, I reckon this will have been enhanced further;
Mustafi's drive and reading of the game is awesome, and his partnership with Koz is blossoming quickly. This is allowing his CB partner to take it a bit more easy and preserve energy, which is just what the doctor has order for King Koz as the season is long… I loved Mustafi's reading of the game and interventions, his drive to link up defence with midfield. In a way, he is our pace setter from the back. Long may it continue.
Coq-Santi DM pivot. Wenger has been indicating that Xhaka is doing very well and now needs to be linked up with a DM partner as their collaboration and mutual understanding are pivotal to the team. Coq and Santi, as a partnership, are ahead right now. He also sees Xhaka as a box to box player, given his enormous energy, rather than a deep laying 'Pirlo', so it seems. So Granit needs to find himself a deep laying DM, which could be either Coq, Elneny, or even Santi. Let's see what will happen midweek against NF re this;
Theo is in his element. Theo will often frustrate us but playing in this 'Alexis the holding AND mobile CF' system, he is likely to thrive and deliver the goods more regularly. It creates space for him to which he is not just addicted but also very dependent on. Theo is a chancer and sometimes his attempts come off spectacularly and sometimes disastrously, but as a 'second CF' on the wing he will get his goals and assists. He scored a fine goal and was involved in a lot of our attacking play. Theo may have found himself a new lease of Gunner life;
Ozil, Bellerin and Monreal featured less prominently in this game it seemed, but their running (with and without the ball) and passing were still vital for our dominant TEAM play. Mesut's final ball is still not as sharp as we are used to, but can you imagine how we will play once he finds his form?! Chavs be warned! 🙂
The quality of the bench. We are still missing the likes of Ramsey, Welbeck, BFG and Gabriel, and Ollie was left at home nursing his big one, but to be able to bring on Xhaka, Perez and Elneny to close out a game is a thing of beauty. And Granit's bullet into the left corner for our last goal topped it all off;
Wenger for evolving our game once more and getting the very best out of his players. Time to get fully behind him once more. The season just kicked off properly.
By TotalArsenal.