Sometimes you need a bit of time after such an Arsenal performance: to let all the goodness stew and sink in. It is fair to say that the game only really lasted 45 minutes. The Chavs were hoping Arsenal would not push on and spare them in the second half, and we did. I have a strong feeling Wenger told the troops to show mercy for Conte's men at half time, but this would have been very different if the original gatherer of yesterday's first Chelsea 11 was still managing that team. For that Arsene  has to wait a couple of months. 🙂
Arsenal outclassed Chelsea in every department. We had more energy, better healthy aggression, better running, better passing, better tempo, better creativity, better chances and better finishing. The only area I was less happy about, and on another day it could have cost us at least a goal, was the cover for our left back: either Santi or Iwobi left Monreal dangerously exposed on more than one occasion in the first half. I guess that is why Wenger called the first half performance 'near perfect'…
There are so many positives to take from the game, but the one that matters most is that we played as a team; in fact, we played as an all conquering machine. From defence to midfield to attack, we almost always were in control through our collective, fully integrated approach to playing football.
Key in this all was the way we pressed the Chavs and never let them settle. We had already witnessed eight days ago what high and vigorous pressing of Conte's men can do them, when Pool destroyed them in just 45 minutes at the Bridge. We did exactly the same. They might have a few fast attackers, but as a team they lack energy and tempo, and they do not have the sort of quality players anymore who can dominate proceedings on their terms. Those days are over.
Key was also our dynamic, hungry yet disciplined CB duo, the fire in Coquelin's belly and the creativity of the likes of Santi, Mesut and the superb Iwobi. Add to that the energy of the full backs, Theo and CF monster Alexis and you have our team summarised in a nutshell.
Eight Positives from  a great win at THOF:
The

unpredictability of our attacking football

: we were so dynamic yesterday and once again we spread the goals and assists. The Chelsea defence just did not know who to concentrate on to eliminate our danger. The first goal was the result of a clever, never-give-up hunt down by Alexis on the sorry Cahill. After that he had to chip the keeper which Alexis did with great composure. The second one was orgasmic and I am sure not to have been the only one who made the accompanying sighs of pleasure when the goal was being created by the slick and sexy moves of Ozil, Iwobi, Bellerin and Theo. The third was also very sexy and really good to see that Ozil was fed by the unselfish Alexis to score his second PL goal this season.
Arsenal have scored 20 goals in all competitions already this season with

nine different goal scorers

. I have always said that Wenger would like our goal threat to come from a variety of players rather than being over reliant on the one 'Van Persie'; and we are spreading the goals alright now, based around our Total Football approach to the game!;
It is great to buy a top quality player and see them succeed but it will never surpass the joy of

seeing a youngster make it

to the big stage. This season it is Iwobi's turn and boy has he been brilliant until now. Alex fits in so well at this Arsenal team. He has great close ball control and has that rare little bit of extra time when on the ball, and his confidence is growing every week. He had a lovely, well spotted pre-assist for our all important second goal. Iwobi is a team player despite having two 'I's' in his name, and he is currently our king of assists with three already. Go and watch him live if you can, is all I can say;
The

partnership between Mustafi and Koz

is starting to look very good. Together they dealt really well with pantomime villain Costa who they totally skinny-latted;
I have covered my views re Alexis as our CF on here many a time, but it is good to see how many are now agreeing that he is really lifting this team to another attacking level now. He now has four league goals and one CL goals but he also makes space and opportunities for others, with Theo already netting three league goals and Ozil having two league goals to his name. The whole team was MOTM, but if I had to choose one player it would be Alexis;
The

collective chasing and harassing

of the Chavs, never allowing them to settle and then getting the job done in just 45 minutes. Class. And Theo's hunger and discipline stood out yesterday: this is the way to play yourself back into our hearts my friend.
The

home support was awesome

: it is a good example that if and when we play well and give our all the supporters will follow. It would be great if it worked the other way around sometimes as well, but yesterday the fans did their bit to overcome the much loathed opponent from West London;
Wenger deserves credit for his first team choices and tactics: they were spot on and credit should be given by the entire Gooner community.
There are plenty more positives to add, so please do so.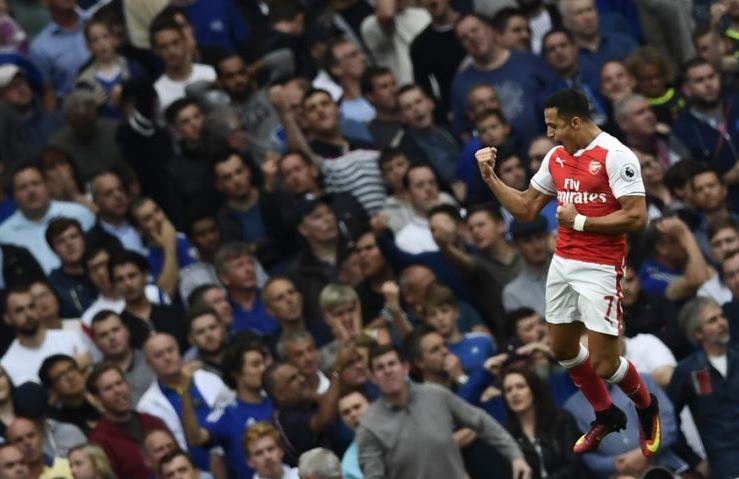 By TotalArsenal