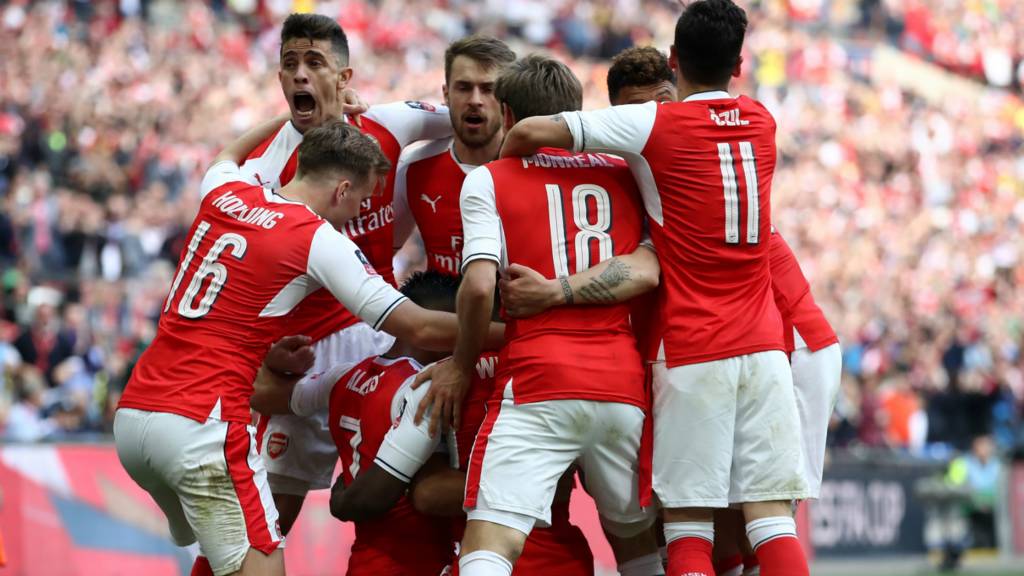 Can confidence gained in this past Sunday's win over Manchester City in the FA Cup semifinal carry over into league play?  Tonight's match vs defending champions Leicester City will be the first step in answering that question.
With a spot in the FA Cup final booked, Arsenal must get back to the difficult task of trying to get up for a top-4 finish and another go at the Champions League.  On only three days rest, the Gunners face another must-win match that could pull them to within 3 points of Manchester United and 4 points of Manchester City, clubs that will face each other on Thursday night, meaning at least one of them will drop points.  A win would also see Arsenal climb to within 6 points of Liverpool but with 2 games in hand.
It won't be easy.  Leicester–with a full week to prepare for this match–are coming off a draw with Atletico Madrid in the 2nd leg of the Champions League quarterfinals.   It wasn't quite enough to put them through to the semis, but they went further than any other English team and did not look out of place at that level.  Before that they drew at Crystal Palace, a revived team that thoroughly man-handled Arsenal just 16 days ago.
That 3-nil loss was a real nadir, the most recent of many this season, and it was enough for manager Arsene Wenger to decide to switch formations and playing personnel.  Playing three at the back has yet to yield a clean sheet but it has been sufficient to see out a pair of 2-1 wins, first at Middlesbrough and then at Wembley.  Are those results enough to suggest Arsenal have turned a corner?  Will the 3-4-3 be used again and is it the right approach against a Leicester team which won the league last season by being happy to concede possession and play on the counterattack?
Of course, this season has been very different for Leicester.  Drifting toward the relegation places, club chairman Vichai Srivaddhanaprabha made the bold and controversial decision to sack manager Claudio Ranieri and replace him with his assistant, Craig Shakespeare.  It appears that it was the right move.  Shakespeare turned the team around, winning his first five league matches.  They've cooled off slightly since, losing at Everton before the draws with Palace and Atletico.
So, in form and well rested–and featuring players like Jamie Vardy and Riyad Mahrez who terrorized the league a year ago–Leicester present a formidable challenge for the Gunners, but one they simply must surmount.
As much as Leicester's playing on the break would suggest a more attacking formation, I believe Wenger will stick with the 3-4-3 and the same starting line-up that helped win the last two games.
Cech
Gabriel–Koscielny–Holding
Oxlade-Chamberlain–Xhaka–Ramsey–Monreal
Ozil–Giroud–Alexis
Substitutes: Martinez, Gibbs, Bellerin, Coquelin, Iwobi, Walcott, Welbeck
It could well be argued that, on such short rest, playing the same 11 is a bad idea.  Players like Danny Welbeck and Hector Bellerin were effective as substitutes at Wembley and could be considered for starting spots.  Welbeck, in particular, gave the Manchester City rearguard new problems when he came on for Olivier Giroud.   Isolated and mainly used as a target for Petr Cech's goal kicks, Giroud was mostly ineffective.  By comparison, Welbeck's movement seemed to enliven the attackers who began to interchange positions more freely.  Although he wasn't able to score a goal of his own, Welbeck made good chances for himself and others, and it was his standing foot (the kicking foot found nothing but air) that must be credited with the assist for Alexis' unstoppable blast which sealed the win in extra time.  If Wenger makes one change to his starting group, Welbeck for Giroud would be the logical choice.  A second change might be Bellerin in for the Ox, who was seen leaving Wembley on crutches.  Wenger suggested, however, that it was a precautionary measure only, and that there were no real injuries coming out of the cup match.
Of course, Wenger might choose this match to switch things up a whole lot more.  Using the full depth of his squad and/or reverting to the 4-2-3-1 formation might make sense given the tight schedule and Leicester's tendency to concede possession.  I'm less than fully confident, but my hunch is that the formation and line-up will continue as long as it keeps getting good results and the same 11 are available.  Your guess is as good as mine, however, so have at it.
No matter what, this match will be a tough one.  After the recent wins, the home crowd, perhaps recognizing the importance of the match, might more readily do their part and act as a real 12th man, getting fully behind the team.  Hopefully that–plus the burgeoning confidence those results have inspired–will be enough to see the Gunners through to win another one.
Go on then…
by 17highburyterrace