Or Are They?
Bergkampesque is generally an optimistic place.  One of our contributors,  Pony Eye, recently wrote a two part series of posts which inevitably led to thoughts about building our squad over the summer.  Keeping the bulk of the more successful players in the squad while adding a few key–or even "world class" players (definition, please) seems the only way to compete with the clubs who finished ahead of us this past season.  Can we do it when faced with Europa League football in the coming campaign?
Unless the "Leopard(s) can change his (their) spots" all signs would point to the answer being a massive NO.
Let's play detective, shall we…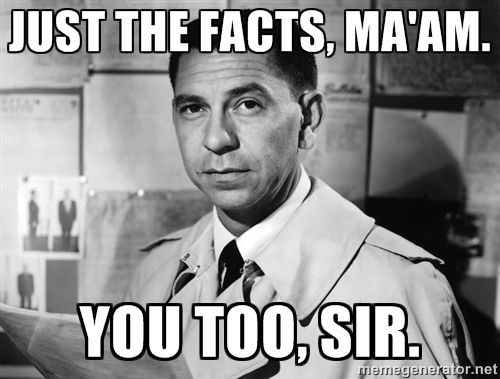 I'm probably dating myself (I'm from the class of 1964), but watching "Dragnet" (American television show) was part of my early childhood experience…
On Wenger:
It can probably be agreed by most Gooners that Arsene Wenger's managerial career at Arsenal can be divided into two phases, roughly (or not so roughly) divided by his time managing in our two stadiums: Highbury and The Emirates (Ashburton Grove).  With the former as our home, his trophy tally reads as follows: three Premier Leagues and four FA Cups.  At the latter: three FA Cups.  At Highbury, there was also the "Invincible" season (and a streak of 49 matches undefeated) as well as an appearance in the Champions League final, a game lost by a single goal despite having to play with 10 men for most of the match.  Since the move to the Emirates, the best finish in the CL was a semi-final appearance, lost to Manchester United, 1-4 on aggregate.
Many would also argue that the Emirates phase can be further divided into a couple of its own periods.  A first one where the team was built around younger and less expensive players, and a more recent time where pricier and more mature players were brought in, most notably Mesut Ozil and Alexis Sanchez, but also first team regulars such as Granit Xhaka and Skhodran Mustafi, and, before them, Petr Cech, Olivier Giroud, Santi Cazorla, Mikel Arteta and Per Mertesacker.  In this second period, Arsenal have also been more successful at holding onto our best players by gradually upping the overall wage bill.  The results?  Nothing better than 2nd in the PL (once, but 10 points behind miracle winners, Leicester City), seven straight round of 16 exits in the Champions League, and the three FA Cups (in the past 4 seasons).  Some Gooners might argue that the FA cups represent improvement.  Others would point to the thought that the domestic cups are considered less and less important as time goes by.  This season's results in the two biggest competitions, a 5th place finish in the league and the 10-2 aggregate drubbing by Bayern Munich in the CL, clearly seem a step backwards.  Finishing behind Tottenham Hotspur, for the first time in 21 seasons, adds insult to injury.
Soon after the stadium move, Stan Kroenke became majority shareholder at Arsenal.  Let's look at some facts about him.
He's American, he's married to one of the world's richest heiresses (a daughter of Sam Walton, the developer of Wal-Mart) and he owns several American Sports franchises.  Although he was already successful in real estate, inheriting the Wal-Mart wealth is what made him a billionaire.  In the early 2000s Kroenke bought several Colorado based clubs including the Denver Nuggets (basketball) and the Denver Avalanche (hockey) and a few others including a lacrosse team, the Colorado Gran Prix and the Colorado Rapids of the North American Soccer League.  In 2010 he became majority owner of the St. Louis Rams, a storied club in the National Football League.  Here is a well researched appraisal of the success of some of those franchises– or lack thereof.  Increasing the value of his sports portfolio–rather than personal (and supporter) satisfaction through on-field results–seems Kroenke's goal, most notably exhibited by his successful efforts to relocate the Rams back to the more lucrative Los Angeles market.  On the other hand, some of the more optimistic Arsenal support might argue that his attendance at the recent FA Cup final victory over Chelsea could make him keen to witness other, even bigger, triumphs.
Of course, English (and European) football is a very different landscape from American sports with their structures to prevent excessive debt spending and provide more level fields of competition.  Could it be that Kroenke and his board are ready to "speculate to accumulate," as so many other billionaire owners seem willing to do?  Arsenal have released statements suggesting that Wenger has the full financial support of the Arsenal Board of Directors.  As majority shareholder, that would mean Kroenke.  Are the two central characters at our club going to go for it?
In a massively inflated transfer (and salary) market and unable to offer Champions League football to potential signings (and current players, of course), what would that mean?
First off, let's not forget that the revenues from playing in the Europa league instead of the CL will reportedly cost the club some 45 million pounds.  To my mind, this alone signifies that Kroenke (and/or, possibly, other board members) will have to dip into the club's reserves of cash–currently just over 100 million pounds–AND his (or their) own holdings.  Frankly, this seems far less likely than Wenger being willing to spend at ever increasing record levels.  Even that seems a longshot.  The manager's parsimony–or at least an eye for a good deal–is often cited as a principal source of those very same cash reserves, and a big reason Kroenke and the board continue to offer Wenger new contracts.
So, many Gooners, already extremely divided on the subject of their manager AND their owner–Wenger Out signs have taken to the air, Kroenke Out signs have thus far only been seen held up by supporters–probably feel that spending big on new players, or on greatly increased salaries to keep our most expensive current guys, is the only means of truly competing for the biggest prizes.
My question: is that a likely scenario or will the fan base have to rely upon the current squad, perhaps minus some of our most sought after players, youth coming up through the ranks, and second-tier additions? Can a team built in that manner–and playing in front of a sometimes hostile set of supporters–get the results that might satisfy?
I wonder.  Mostly, however, I'm just trying to ferret out the facts and calibrate my expectations accordingly.  Perhaps other Gooners can help me out.
Go on then…
by 17highburyterrace