…Would Happen in a Football World That is Patently Corrupt and Where the Rich Only Get Richer?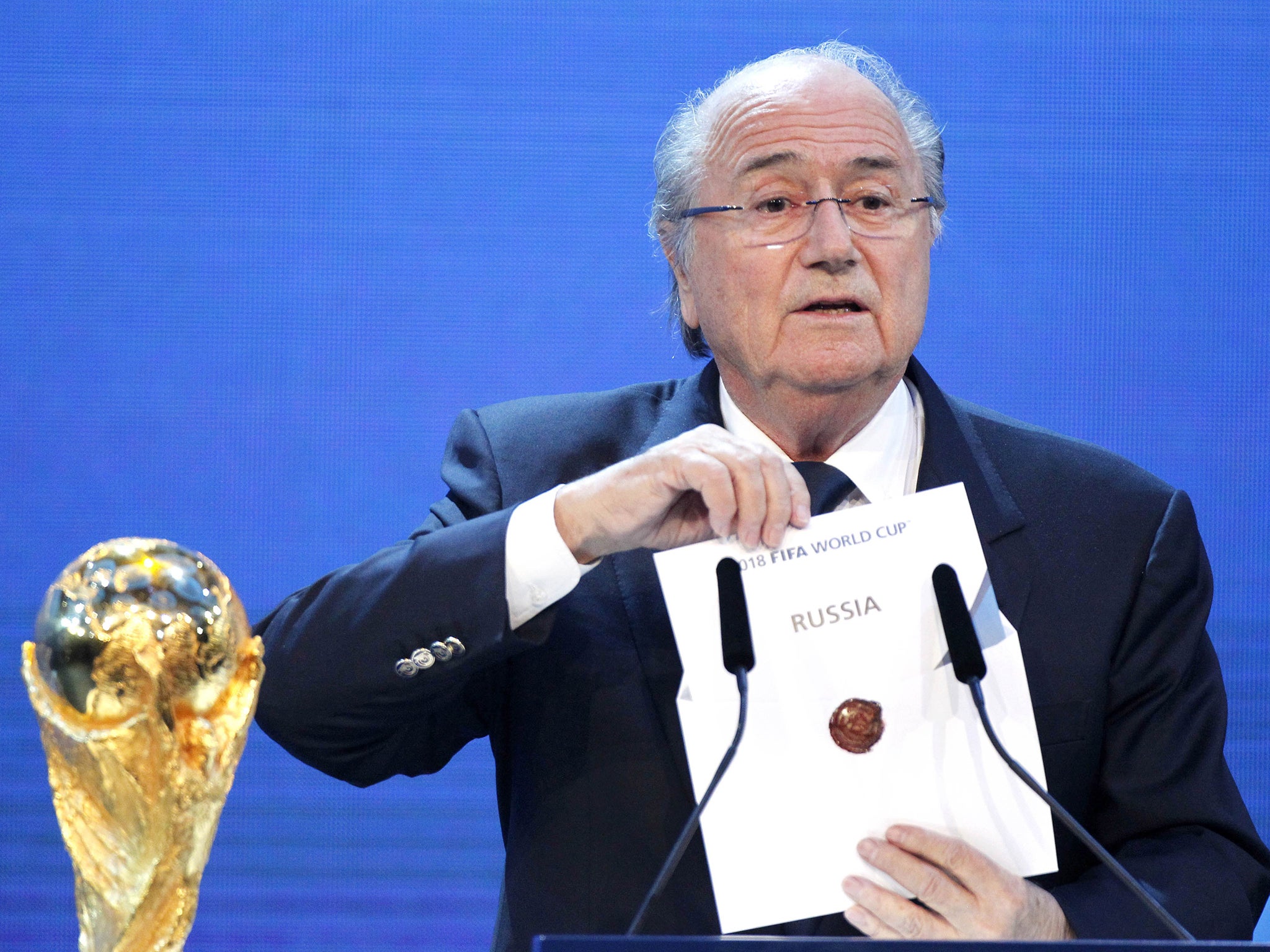 Wake me up when Sepp-tember ends…
Caught in another International break, I'm left to ponder if there's any football worth watching.  I'll probably try and catch the World Cup playoff games between Granit Xhaka's Swiss team and Northern Ireland–the first leg actually being played right now–believing that it might not be fixed.  The winner will fill out a group in next Summer's tournament in Russia, and, who knows, maybe even spring an upset over a traditionally superior footballing nation.  Then again, if the selection of the host countries is bought with money, why shouldn't the results of the World Cup itself also be purchased?
Likewise, after losing 3-1 at Manchester City, why shouldn't Gooners also give at least a thought that the fix was in.  Is the linesman who killed the game by awarding City its third goal driving a nicer car towards his bigger and more luxurious house?  Is there not an intrepid Arsenalista out there who might enjoy a little leg-work to find out such facts?  It has to be better than trudging north for another dark afternoon in the away end knowing that the Gunners have the slimmest of chances for getting a result.  Plenty of pints, however, might make both jobs go down a bit easier..
But that's just the way football is… Or is it?  Let's ask Sepp, whose principal defense as corruptions trials begin in New York this week, is that others should join him in taking the fall.  Of course, some might argue, that's international football, the club game is different, and, besides, Arsenal should be able to compete with the best clubs in England–and Europe.  Now that we're 12 points behind Man City, the Premier League title seems gone.  And, having dropped out of the Champions League–after seven straight round-of-16 departures–many Gooners are glad that we don't have to make our annual autumn passage towards a late-winter beating in that competition.  Put simply, Arsenal are not competing at the level, and, in my opinion at least, a change in manager or a turnover of players will not get us there.
Moreover, we were only a desperate 70+ million dollar bid for a promising but very inexperienced Thomas Lemar from losing the player many believe to be our best–Alexis Sanchez–to that same club that's 12 points ahead of us–and nine points clear of everybody else.  Do the rich always need to get richer?
It seems to be so.  Moreover, it's a situation that is (somehow) tolerated by most punters–those who have given up on football years ago won't be reading this post.  Do folks actually believe the smaller clubs have a chance?
And, make no mistake, despite proclamations a decade ago by Ivan Gazidis, Arsenal are a smaller club.  Yes, we have a big stadium, filled (or unfilled…) by supporters who pay obscene prices to attend (or not attend…) our home matches, and, yes, we have a billionaire owner.  The other thing we have–unfortunately, I guess–are our "values."
We spend what we make, which, again, of course, is what all the other clubs in England and Europe are supposed to be doing.  Financial Fair Play rules–not quite as big a joke as the names Blatter drew out of his hat that night (after Russia 2018 came Qatar 2022)–is rife with clauses allowing abuse.  How can City pay Alexis' wage demands on top of all the others?  They must be selling a lot of shirts.  Paris St. Germain scored both Neymar AND Kylian M'bappe in the last window.  If you can explain it to me, please do so, but I'll be napping soon enough.
Maybe I'll be napping anyway given the quality of the aforementioned Northern Ireland–Switzerland match I've got on the television.  City and PSG stacking the deck means the quality–at least at the top of the game–must go up, right?  Maybe spreading the best talent to more teams would actually make the game (or more of the games) more competitive.
That's my belief, what do you think?
In the older (and better?) days Arsenal supporters saw the North London derby as a must-win match against our (lesser?) neighbors up the Seven Sisters Road.  Now, with Spurs building a new and bigger stadium, adding to their brand by playing (quite successfully this autumn) in the Champions League and sporting some very interesting English and foreign talent (including their Argentinian manager) I'm actually looking forward to the NLD more than ever.  We'll likely be underdogs in nine days time–even in our own stadium–but, long term at least, we should be competing with our neighbors on relatively level footing.  Call me crazy, but this seems kind of, well, the essence of sport.
As they say, everybody has an arse, just as everyone has an opinion.  With Arse-nal, maybe there are even more arses–and (thus) opinions.  🙂
Let's be having them, eh.
What do you think about the direction the game is headed?  Does it just imitate the real world where the richest folks seemingly must get richer?  Spending your Alexis money on fellow Arabs who could really use it doesn't seem on the radar of Prince Mansour, while paying taxes–and perhaps allowing governments to get resources to those who need them most, seems at odds with keeping yourself–and your money–in paradise.  Do values have any place in football?  Do they have a place in the real world?
Sorry if this isn't a tactical analysis or (another) lamentation of miserable (miserable) Arsenal.  It's just–as I watch 35 million pound Granit Xhaka blast high and wide from 30 yards–my take on international football and football as it fits into our international lives.  What do you think?  (Or feel free to ignore this stuff and talk about anything else Arsenal.)
Go on then…
by 17highburyterrace