PREVIEW: CARABAO CUP FINAL

We go into this encounter as the underdog. Psychologically that will benefit us, is my belief. It will get us primed for a fight. There will be energy and commitment in our play and the handbrakes will be off. At our best we can stand up to anyone.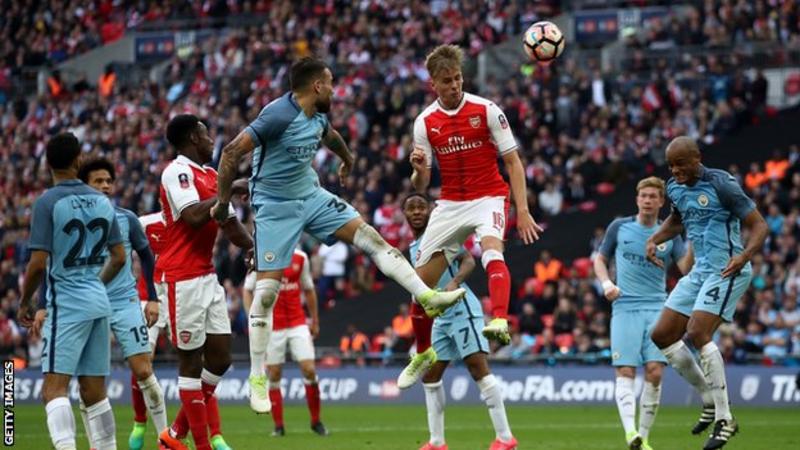 With the ball, the philosophies of the two teams are very similar, to dominate territory with possession. But their tactics part company when the teams are without the ball. City does the high press. They want to regain possession as quickly as possible. We don't press high. When we lose possession, we fall back. This major difference will define the key points of the battle at Wembley today.
If City is successful with their high press, they will choke us out of the game. On the other hand, if we are successful with beating their high press while maintaining an effective offensive shape, their usually undermanned half of the field would be reeling from our quick thrusts.
I see three major segments to our play. Win the ball deep, beat their press, lunge-blitzes through their poorly manned half.
Our midfield has a major part to play in these three different segments. Getting the personnel right there is all important. For the central midfielders I'd prefer the duo of Ramsey and Elneny because of their energy, ball winning ability and greater security in possession (beating the press). For transitioning the ball we have Ozil and Xhaka.  For blitzing my choice would be Auba, Kolasinac and Bellerin.
Something tells me that Auba and Kolasinac are made for each other. It might be of interest to remember that the tank was invented during WW1 in response to the stalemate of trench warfare. They were built for smashing through defensive barricades. It's time to reinvent our Kolasinac, the tank.
Kolasinac and Bellerin would require a 3-man central defence. Using our wingbacks more offensively would demand using Elneny conservatively, as was the case in the 2nd half against Chelsea in the semi-final. It was very effective.
The line-up I'd prefer to see is:
——————–Ospina——————-
—–Musti ——–Kosh —— Nacho—–
——————–Elneny———————
Bells —-  Xhak ——  Rams —— Kola
———–Ozil——————————–
————————-Auba—————-
Subs; Cech, Chambers, Holding, AMN, Wilshere, Iwobi, Welbeck
Don't forget that Wenger has a pact with the gods of cup ties. We will come out tops.
COYRRG!!!
By Pony Eye