Tonight Arsenal played their last official friendly and here are my eight observations and points for discussion: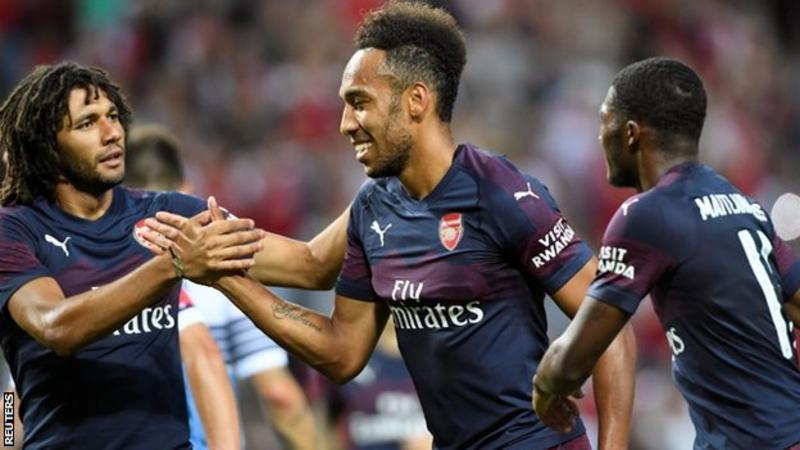 Leno looked dynamic and was very confident with his feet throughout the game. It was the first time I saw him in action for Arsenal and he impressed throughout the game. He did not have to make too many stops as Lazio were wasteful with their changes, as they seldom hit the target from promising positions. Therefore, it is hard to compare him to Petr, who I hear had an excellent game against Chelsea earlier this week. It will be interesting to see what Unai will do re his nr.1 GK…
Iwobi had a strong first half and seems to be buoyed by the signing of a new contract. He worked well with his partner on the left flank, AMN, and together they produced some good chances. A bit unlucky not to score himself but at least his effort came off the post and into the path of the equally impressive Nelson who just could not miss from there. Loved that Alex had some good running with the ball and being very direct at times.
The CB pairing of Holding and Chambers did not impress. They were too often exposed in the air and did not organise the team well with regards to set-pieces. They also were too often out of position and struggled to read the game when Lazio attacked on the ground.
Lichtsteiner, Torreira and Xhaka all started (the first two had their first game for Arsenal) but they all looked rusty and struggled to make an impact on the game. Xhaka and Torreira in the centre of defence is a work in progress, especially in Unai's experimental 4-4-2 set up: who of the two should sit deepest and who should do the B2B stuff? Lichtsteiner produced a few nice balls over the top and into the box.
Why did Mustafi not play at all (good question GoonerEris)? Unai decided not to play his strongest team together and maybe this was done with the aim to keep Guardiola guessing…? I expect Mustafi to start (with Sokratis) next week Sunday.
What to do with Lacazette? The man gives his all but his link up play outside the box was hasty and imprecise. I love the partnership with Auba, but only with the Frenchman as our CF operating in and around the box rather than filling the void between midfield and attack (as is often typical of a 4-4-2 system).
Guendouzi impressed. Except for a few overeager runs with the ball which led to him being disposed and leaving the team exposed, he had a good game. Guendouzi offered good link up play between defence and attack and added energy all over the pitch. He also kept his head up and produced some fine passes.
Mkhi had a strong thirty minutes or so. Just like Guendouzi, he added energy and forward movement with the ball at his feet in the second half. Auba scored a good, calm goal and Ozil had a few nice touches in and around the box.
All in all it was a good 2-0 win even though the score flattered us due to a lack of clinical finishing by the Italians. It is hard to pull any big conclusions from the game as there were too many substitutions and the Italians weren't as bothered about the game as our boys. But defensively alarm bells are ringing and Unai has his work cut out to get the defence to work as a well-drilled unit. The good news is that we keep scoring in every game and that we are pressing teams a lot more than we used to do.
The real test will follow in due course…. eight days to go…
By TotalArsenal.