A pivotal NLD awaits us. The Spuds lost two in a row and we won two. They still had a chance to win the league but needed at least four point to stay in touch with Pool and Citeh. They could be three points behind Pool but now look at a nine point gap; they could be ten points ahead of the mighty Gunners but now the N-L rivals are just four points apart. It has been bright and sunny over the last week and, as we all know, the Spuddies only thrive when it's dank, dark and miserable. It will be relatively warm and dry this afternoon, so let's finish the gap-closing job in style.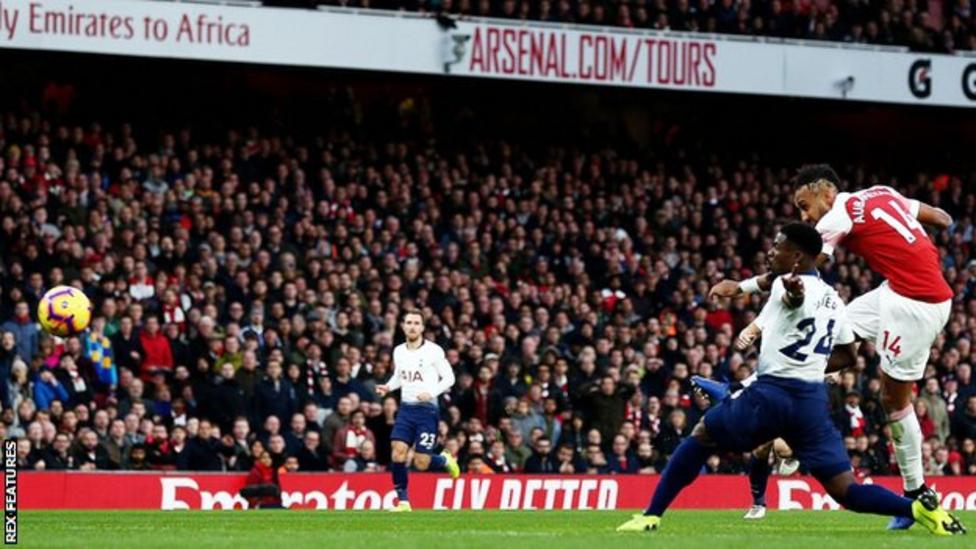 A Gunners' win would reduce the gap to just one point and that just over six calendar days! It would be THE turning point in the Spuds and Arsenal seasons, as that would condemn the knuckle-draggers to a dirty top-four fight with us, the Mancs and Chavs; and it would give us the belief and further impetus to finish in the top-four. Today is crucial for both teams, let there be no doubt about it. It is a six-pointer game with our most detested rivals; it is a battle that is very likely to determine the outcome of the war. Let's get the cannon loaded; it's time to blast the silly skinny chicken of the ball. 🙂
Which team is going to do it? It depends whether we play 4-2-1-3 (4-3-3) or 3-4-3. I reckon Emery will go for the latter, with possible these starting 11.
Emery's 3-4-3(?):
I am not sure who he will play on the right in midfield, but reckon it will be either Licht or Rambo (not sure how fit AMN is but that could work too). I have a preference for Rambo but only if he fully commits, which I have not seen him doing since he signed for the Italian barcodes.
This formation would give us attacking options on the left – where the partnership between Kola-Iwobi is blossoming – and right – where Mkhi has made a big difference recently. The only problem with this formation is that it will ask a lot from both Xhaka and Torreira. They will need to play with discipline and protect the back-three; yet they also need to provide the midfield creativity and attacking passes. It also means that either Iwobi or Mkhi – or indeed Laca – will need to make themselves available in 'the hole' area to fill the gap there, and this may not be ideal for us against the Spuds.
Emery's 4-2-1-3(?)
The alternative is to play 4-2-1-3 and allow either Rambo or Ozil (my preference all day long) to boss 'the hole'. This would allow Xhaka-Torreira to boss the midfield without taking too much risk, and against the Spuds it is all about winning the midfield battle. It would still allow us to operate our wing-partnerships, even though it would be with different personnel. It would give us that extra bit of creativity in front of the Spuds' 'D' and therefore make us less predictable. But it requires our 'wingers' to support the full backs and central midfield players constantly, and Rambo/Ozil to go deep now and again and support midfield.
It could look like this (4-2-1-3):
I believe the above 11/formation would suit us best to conquer the Spuds at Wembley, as long as the instructions are clear to cover the space left behind when we are attacking. It would have been great to have Bellerin available for this one, but other than that we are lucky to have such a good starting 11 fit and available in early March.
Emery's 4-3-3(?)
Alternatively, we could see a 4-3-3 with either Rambo or Guendouzi next to Xhaka-Torreira and that would definitely strengthen the midfield from a defence point of view.
It could look like this, and the more I think about it the more I believe Emery might go for it (4-3-3):
I have a good feeling about this one: 2-1 to the good guys (Auba, as a sub, to do the manage in the last 30 minutes)!
What would be your preferred formation and starting-11? What is your predicted score?
COME ON YOU RIP ROARING GUNNERS!!!
By TotalArsenal.