Arsenal 3 – 2 Aston Villa: Never Say Emery Doesn't Entertain!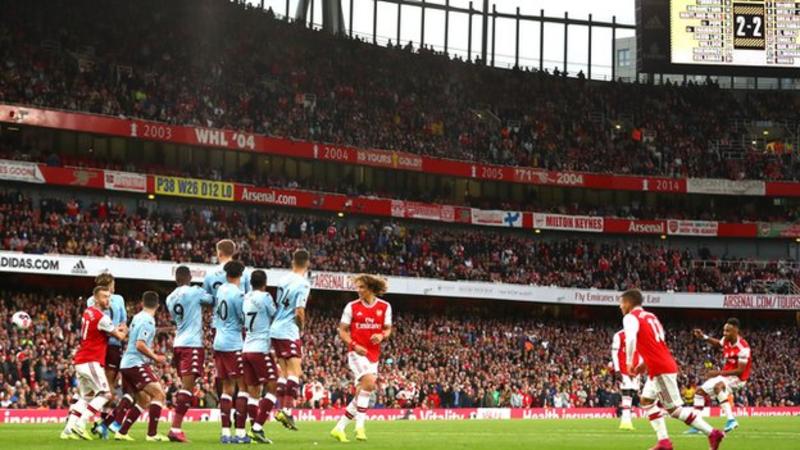 Bernd Leno – 6
It would be harsh to blame him for either of the goals. Yet, he might have prevented any of them (remember Martinez foregoing crosses in Frankfurt?) being more proactive. That would have been more spectacular than expected of him by any means, but a pre-requisite for a higher rating as he didn't have critical saves or remarkable distribution to show for.
Ainsley Maitland-Niles – 2,5
Contrary to popular misbeliefs I don't think his second bookable offense was intentionally malignant, ill-timed or reckless, but nevertheless he should have been more cautious being already booked (taking Jon Moss into the equation). He put the team in jeopardy, but his poor performance in the RB role is reflected in his low rating. He should have put El Ghazi under pressure before his assist.
Sokratis – 5
He seemed slow and rusty before Villa's second goal, but it was far from a major individual mistake that characterized Arsenal's defence in the past several PL games. He did his best to silence Wesley throughout the game, but unfortunately it was the Brazilian who had the last laugh. His no-nonsense approach while often a welcome feature clearly has its limitations.
David Luiz – 5,5
His distribution and attacking contribution should bump his ratings even more, but as he is a defender by trade, I had to take his shortcomings into more consideration. With 2 tackles and 6 clearances he was a quality defender for most of the game, but a 24-27-year old Luiz wouldn't have allowed Wesley to beat him to the near post and convert Villa's second that easily.
Sead Kolasinac – 6
Would you believe that he led Arsenal tackling statistics with 4 (being second only to McGinn's 6), and while his final balls lacked conviction he put the right defence of Aston Villa under constant pressure. It was his most balanced performance in this season (to date), and if he starts delivering key passes and assists again, he could prove be a challenge for Tierney to overcome.
Granit Xhaka – 5,5
The Swiss captain had a quiet afternoon, failing to impact the game either defensively or offensively. Yet he was paired (again) with Guendouzi which on one hand is the dictionary example of the lack of synergy, and on the other hand limits him moving forward in the absence of a hardcore DM like Torreira. However, the fact that our midfield had significantly improved with substituting Granit for the Uruguayan only demonstrates the ineffectiveness of the Xhaka-Guendouzi partnership, not his personal shortcomings.
Guendouzi – 7
While it is usually Xhaka who delivers a mixed bag performance it was Matteo's turn against Aston Villa. It is convenient and popular to blame the (old) central defenders for McGinn's opener, but it was Guendouzi who lost him; and he similarly failed to track back before Villa's second, letting Grealish cruise between the more static Arsenal defenders. Nevertheless he single-handedly defeated Villa before the equalizer – making the interception, dribbling into the box and inviting the foul – at a time we hardly had a shot on goal. And his pass in the build-up of Chambers' goal challenged Ozil's and Xhaka's similar skills. While he was nominated as Man of the Match by many, I couldn't let him get away with 2 mistakes that would have resulted in death threats if committed by Mustafi, but Guendouzi had a pretty good game on Sunday.
Dani Ceballos – 6
He struggled against Villa. Yet Dani always looked like he wanted to try and make something happen, but he couldn't leave his mark on the game. He didn't make many or critical mistakes, but he wasted his chance to make an impact. If he was trying to play No 10, he is far from being Özil's heir, albeit it is not entirely his fault. He looked like Aaron Ramsey on his bad days, and it is no compliment.
Nicholas Pépé – 6,5
He was lively as always and ineffective as always. He worked hard, provided key passes, dribbled and created chances, but most of them went begging. I cannot evaluate his penalty – and make no mistake, nobody should. He took some risk, but it worked out just fine. He reminds me of Welbeck on his good days, but unfortunately that is no compliment either. Let's hope that his increased confidence starts to bear fruit in upcoming games.
Bukayo Saka – 6
I admit he didn't get much support, and he is not yet on a level that he can do it alone. Saka on his path to become this season's Guendouzi: who after delivering mixed or average performances is being constantly praised, because taking his age into consideration he indeed was great. But he was our main man against Frankfurt because he was underestimated – a favour PL teams will not grant him frequently.
Pierre-Emerick Aubameyang – 7
His hold-up play doesn't help his comparison to Lacazette, but he also works his socks off. His goal was equally smart and technically exquisite, and he demonstrated rare personal qualities by letting Pépé take the penalty, especially Auba being on his quest to defend his Golden Boot. I blame the Borussia Dortmund supporters' English skills announcing him as a 'toxic addition' to the squad, because watching him play and smile (as well as reading his tweets) starts to become a 'toxic addiction'.
Subs
Calum Chambers – 7,5 (MotM)
He similarly had a defensively and offensively balanced display, which he crowned with a quality goal. He was often – and unjustly – blamed for his contribution to Villa's second, which I have to admit was an uncool ball control mistake, but it happened at the midfield and there were a dozen chances to prevent the ball getting into Leno's net. Such handling mistakes happen with everybody 3 times a game, and the cause and effect relationship with Wesely's goal is a lot thinner than his involvement in our all-important second equalizer. It's nice to pull a makeshift RB of his quality out of the bag.
Lucas Torreira – 6,5
His energy was a welcome addition to our midfield. The Uruguayan has great eyes to disrupt opponents attack, but he was surprisingly effective in pressing. He had 23 minutes to work hard, and he managed to change the dynamics of the game. While he came on to replace Xhaka, I still believe that they represent our best midfield duo together.
Joe Willock – 6
Joe wasn't bad either, but he didn't do anything great either in his 23 minutes. I don't expect the spectacular, but he reminded me of the ever-enthusiastic Iwobi, who often shoots where a pass could have been the smarter solution. If Özil wasn't sitting on the bench, I would have liked Willock's inclusion, but I cannot (and don't) hold Emery's decision against him.
Unai Emery – 5
It might seem harsh from me, as Arsenal delivered a (signature) 10-player comeback, but let's not forget that the team had put in yet another horrible performance in the first half. Furthermore, I think he keeps failing putting our best midfield together, and he didn't really find the best way to utilize Ceballos' obvious talent. And while the crowd obviously enjoys a combative home display, I think 8 yellow cards a game are way too much: it shows unnecessary aggression and/or sub-par tackling skills (not to mention decision making). The risk of suspension is the smaller threat, but a booked CB/DM/CM must be too cautious for the rest of the game.
I wasn't pleased with his substitutions either, but if he'll start Nelson, Özil, Martinelli and Holding on Tuesday I might ask TotalArsenal to upgrade his rating to 6. 😊
By Pbarany