Let's not jump on the LJUNGBERGOUT train yet, but Sunday's performance was largely unimpressive.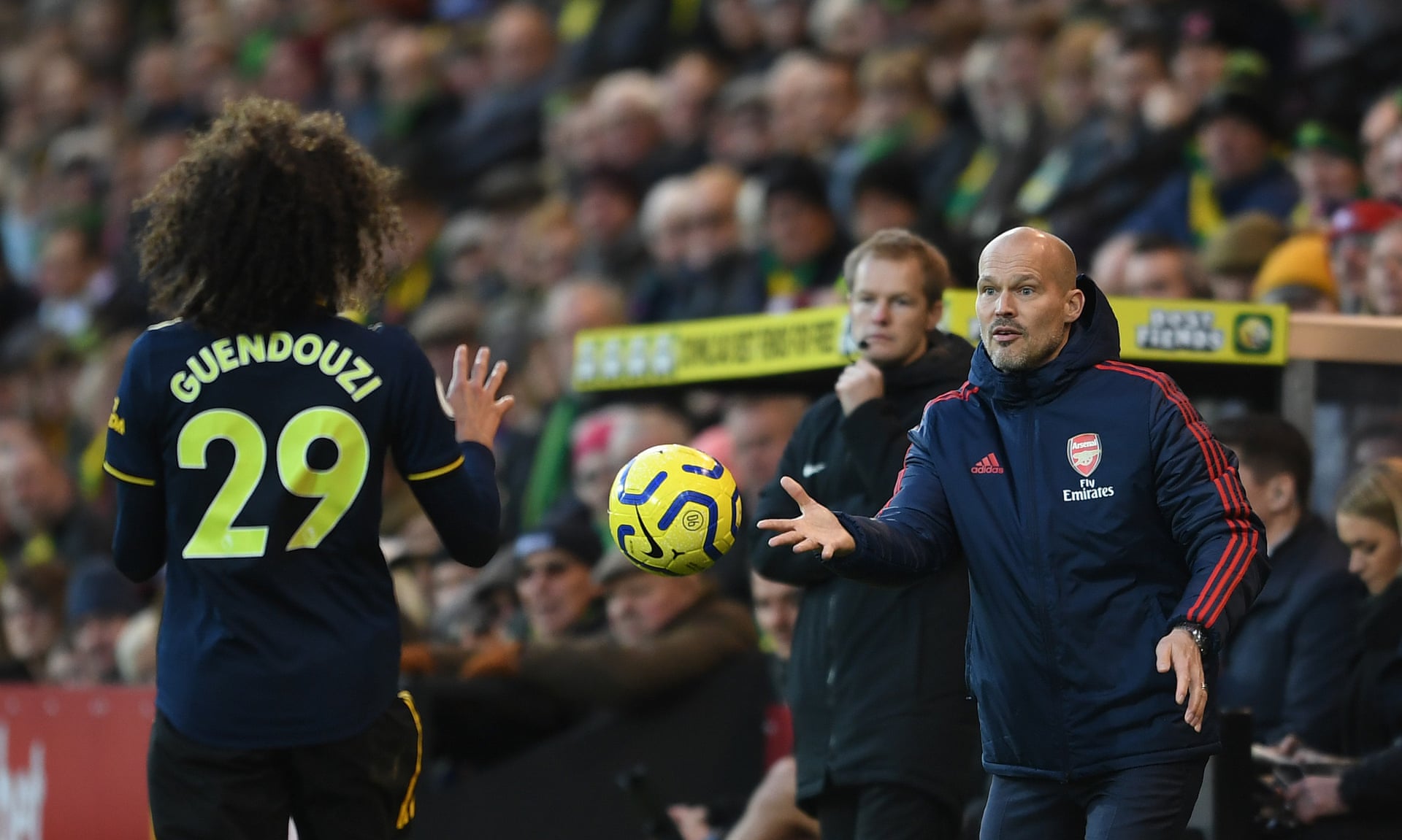 Player Ratings
Bernd Leno – 8,5 (MotM)
We clearly wouldn't have taken a point without him. While I think he could have secured a better spot before the second Norwich goal, he made a string of fine saves, including – but not limited to – his masterful iron finger poke denying MacLean in the 59th minute. As long as we allow the opposition this many shots, it's vital to have someone like Bernd between the posts.
Calum Chambers – 6,5
The Englishman didn't have a great afternoon, but was far better than many retarded supporters insinuated on Twitter. He had an excellent header on goal (drawing a fine fingertip save from Krul), led the team in dribbles (!) with 3, and contributed the defence with 2-2 tackles and clearances. Made some mistakes, but no major errors. He will be the next scapegoat (when Mustafi doesn't play), independent from his performance.
Shkodran Mustafi – 5,5
Statistic-wise he is our best defender by a fine margin. He was the clearance-king on Sunday (as expected). Contrary to popular misbeliefs he is unfavoured not because he cannot defend, but because he always has a lapse of concentration and/or a lack of focus up his sleeves. He did not make them against Norwich, but he wasn't particularly impressive either. While he was not at fault in Pukki's deflected goal, he couldn't send the message to Freddie and the fans, that the most experience defensive pairing (him and Luiz) is in fact the most capable.
David Luiz – 5,5
The good: he was a calming presence all over the pitch; he behaved like a mature player, almost like a captain. The bad: he couldn't organize the defence particularly efficiently. Let's not jump to premature conclusion, as David is playing for Arsenal only for 4 months, and he was paired with Mustafi for the first time, but the amount of shots conceded cannot make him proud. He led the team with blocks, but the second goal – albeit nobody's direct fault – was the consequence of the lack of defensive organization during a counterattack.
Sead Kolasinac – 6,0
Bask into Arsenal's starting line-up the Bosnian tried hard to make for the lost time. Sead looked to provide further offensive ammunition and get crosses into the box for Aubameyang and Lacazette. He bonded well with Ozil. He showed a lot of energy and a big heart when he got insulted for the handball claim. His defensive contribution could certainly improve, but it was a steady performance by the Hulk.
Matteo Guendouzi – 5,0
Struggled to impose himself in the Arsenal midfield. He showed glimpses of promise on the ball, but was painfully ineffective without it. He has an unfortunate tendency to keep the ball under pressure and invite a fault instead of passing it further, but Santi Cazorla did just the same. He almost provided MacLean an assist, but Leno bailed him out.
I don't think Guendouzi played any worse than last year, however, as time goes by his limited value added gets more and more transparent. In a high performing team he could shine, and for many months he got away when the team played poor, as he was always defended on account of his age; but it was high time him being substituted.
Granit Xhaka – 6,0
The Swiss played with confidence, but unfortunately couldn't crown his brilliant offensive interception with a decent pass or shot. His passing was spot on (91% and mostly forward), and made several defensive contributions including a team high 3 tackles. His mind and calming presence are undisputed, but the execution lacks precision more often than under Wenger.
Joe Willock – 4,0
Disappointing display from the youngster after earning a start under Freddie, too. Gave the ball away far too many times and made almost no effort to track back. He is one of Ljungberg's favourites destined to many minutes this campaign, but he needs way more confidence to deliver the performance to justify that. I would rather see him in cup ties, because Joe is indeed a hard-working athletic box-to-box midfielder, but not yet on PL level.
Mesut Ozil – 7,0
Mesut had a two-faced game. He was quiet as usual, yet managed to create 4 chances (50% of team total) including 2 pre-assists; and made 2 tackles as well, falsifying those who systematically claim that Ozil cannot defend. His set pieces were constant dangers, taking the corners far better than Xhaka. On the other hand, he didn't seem like a world cup winner midfield artist, but a regular #10 (having a good day) that almost every PL team possesses. He missed a promising chance, when he should have passed the ball instead of shooting. Due to the team's mediocre performance that was still enough to win the bronze.
Pierre-Emerick Aubameyang – 7,5
Both awarding and retaking the penalty were somewhat lucky (albeit correct). Failing to score for the first was a disappointment, but the retake was largely convincing both mentally and execution-wise. Same applies to his second goal. He is a true poacher, currently wasted in a winger position. I don't remember Auba doing anything else. But that's OK, as long he scores doubles on a regular basis. Still, not captain material.
Alexandre Lacazette – 5,0
A classic Welbeck performance. Lacazette worked hard, bullied the defenders, missed a great chance and was overall uninvolved therefore anonymous. I'm not sure that this was the best tactic Arsenal could have selected, but that is hardly the Frenchman's fault. He was dispossessed even though hi missed the EL-clash against Frankfurt – unlike his striking partner Aubameyang.
Subs
Lucas Torreira – 6,5  
In his 20 minutes he made 2 important tackles and 2 vital interceptions, largely contributing Norwich not keeping all 3 points. He was full of energy, even managed to see his goal bound shot blocked in the last minute. He should definitely start the next games as he seems an upgrade to Guendouzi both defensively and – surprisingly – offensively.
Bukayo Saka – 5,0
I must give it to Ljungberg that he had the balls to make a formation changing substitution. However that's the end of the positives. Young Saka is technically gifted and mentally strong to make the right decisions, hence rightfully stood out in his age group, but he doesn't have the athletic stature to shine in the much more physical PL. It's hard to extrapolate from 12+3 minutes but he was usually overpowered, and when he could shake down his marker, his final ball let him down. Pepe or Nelson would have stood more chance against the physical Norwich defenders, in my opinion.
Gabriel Martinelli – N/A
He had too little time on the pitch to record a proper rating. But it is probably more of a message than a tactical move, as I would be willing to bet good money on that young Gabriel will not make it to the bench, and even he does so he will never be called to action in Freddie's first game. Or maybe I just don't understand football that much – but still better than Keown, Savage and Nicholas. 😊
Freddie Ljungberg – 5,5
It was a strange line-up with unusual defensive pairing, a regular but obviously ineffective midfield trio, and an incoherent attacking trident where 2 non-winger players started on the wings, and 3 "professional" wingers started on the bench. But the game was nevertheless enjoyable and could have gone both ways. He gets the credit for substituting the ineffective Willock and Guendouzi, but he could have done it sooner, and only bringing Torreira proved to be a success story.
Nobody could have reasonably expected that Ljungberg solve our problems in a few days, so re-stating them is not (yet) a critique against Freddie. But we desperately need a top defensive coach, as our players defend properly in training ground situations, but make wrong decisions when it comes to improvisation – which means at every other counterattack. The other problem we have is we are again celebrating coming back twice from behind, while a top 4 aspiring team should beat the proverbial out of a freshly promoted team, even in away games.
Let's hope that we take 6 points from the games against Brighton and West Ham. COYG!
By PBarany.