Solid, predictable, tidy and yes a bit boring, but an attack of sheer beauty gave us the away goal at the Greek cauldron and Leno and co kept a well-earned clean sheet. So what do we sing? Yes one-nil to the Arsenal – one-nil to the Arsenal! The Arteta train is gaining momentum but we are still far from what this team is capable of, and that is not bad but flipping good. We are on the road to somewhere and Arteta is building something solid, mature and enduring, and this takes time of course.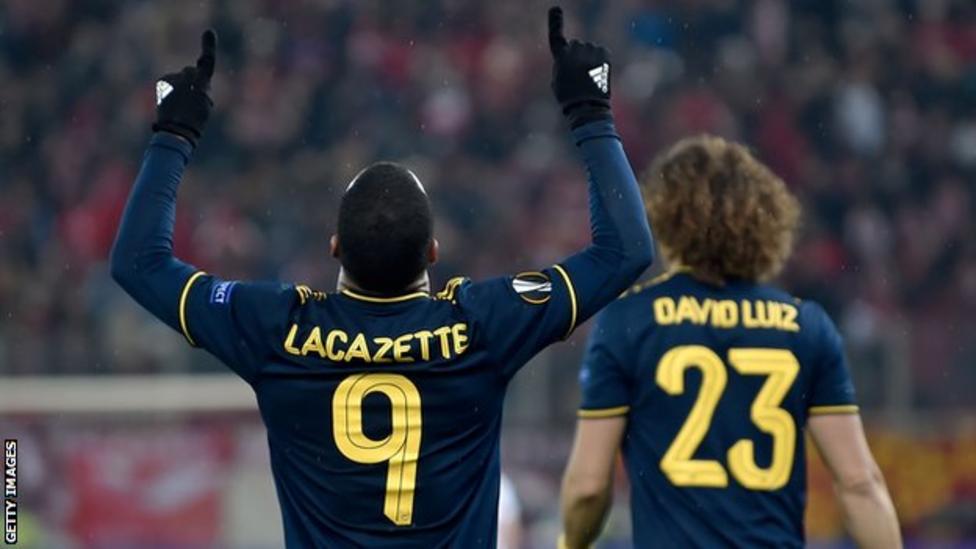 Player Ratings
Leno: 8 – energetic and fully focussed. A tat lucky with the rebounds of his saves but the the pitch was wet and the ball slippery and he was always in control. Better distributions during this game, partly due to Big Sok being a good outlet for his long balls.
Big Sok: 7.5 – It was a surprise to see him play at RB but it worked a treat. Yes he was less effective going forward than say Bellerin, but he helped strengthening our midfield and was a good outlet for Leno's long balls. Sokkie fought like a lion – a true Gunner – and this made a real difference tonight.
Mustafi: 8.5 – MOTM (joined) –  energetic and very, very present. Arteta has made Mustafi purring again and his confidence is back. But what I really like is that he is no longer 'chancing it'; he is doing his job and he is doing it intelligently and that way Arteta will pick him time and again. He also started the move that led to the goal with a courageous diagonal cross to Auba. And in the air he was simply formidable.
Luiz: 8 – calm and experienced, he is now bringing the leadership the team needs, and he was worth his weight in gold today. A Brazo-Greek god on the pitch.
Saka: 8.5 – MOTM – yes joined MOTM with Mustafi. A full extra point for the only real moment of attacking quality: the cross for Laca's tap-in goal. I have said it on a number of occasions, Saka delivers superb final balls into the box that win us matches, and this one was  once again priceless. Bukayo is quality. I also loved the way he used his body to push attackers out of the way. He is so calm and composed and loves his football.
Xhaka: 7.5 – kept it simple and was always present in midfield, and good protection of our defence all game long. Another unnecessary yellow card, but I think Granit just loves to see the colour yellow. 🙂
Guendouzi: 7 – similar to Xhaka, kept it simple and was always present in midfield. A little less effective in supporting the attackers in making things happen.
Willock: 7 – took a while to get into the game and seemed to tire midway through the second half, but some good midfield football and attacking passes. A work in progress but I can see a really good footballer in Joe that I like to watch.
Martinelli: 6 – worked hard but struggled to get a hold on the game, probably due to rustiness. A few bad first touches and disconnections with his fellow players. Needs to play again on Sunday imo.
Auba: 7.5 – worked hard for the team and had the pre-assist for the goal. His in-field game is okay but not great and we really wanted Auba to be receiving the balls he put into the box for his fellow attackers. Arteta is still looking for the ideal balance in attack.
Laca: 6.5 – an extra point for his excellent movement and finishing for our only goal. There were a lot of bad first touches and passes and he had a golden opportunity to score the second goal but squandered it. Love the work rate though, and in the end he scored the all important away goal.
Subs worth mentioning:
Ceballos: 7 – he brings something different to the other midfielders and that is where his value is. Defensively and in attack a work in progress but his enthusiasm to get stuck in and passing ability do make a slight difference and the team warm to him quickly on the pitch (unlike with Guendouzi).
By TotalArsenal