The morning after the night before and I am sure not to be the only one who feels a little bit deflated. There is a feeling that we could have gotten more from that game but lacked a bit of confidence to go home with a point (or more). What it demonstrates, however, is that we are making progress but aren't there yet. This should of course not come as a surprise, but we just cannot help those high expectations creeping in; and when this happens we will sooner or later get a little disappointed. The Big picture is good, very good, though.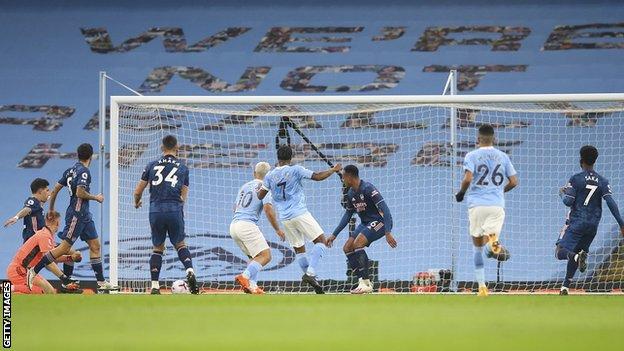 My player ratings would be a bore for you. I would give everyone a 7, except for Gabriel, Tierney, Xhaka and Saka who all had excellent games. Everybody worked hard and stuck to the plan, very few mistakes were made, chances were created. We just did not get a result.
Instead, I will give you my eight observations of the match and these may be better discussion points for all of us:
The key stats for this game tell you a story, a big story of progress. It feels like ages but we played MC away only just four months ago exactly. This is how the two games compare (17/6 v 17/10): possession (%) 67/33 – 59/41; Shots 20/3 – 13/11; Shots on Target: 12/0 – 5/3; fouls 9/7 – 15/10 and corners 5/2 – 6/6. Okay we played a big part of the June game with 10 men and Citeh missed KdB yesterday, but to have almost equal numbers of shots on goal and shots on target and equal numbers of corners tells us that we were

much closer to a result in this game – it could have easily gone our way – and tactically so much better than in previous games at Man City

.
We gave that one goal to MC away very cheaply and that will hurt Arteta and the team. It was a simply break from midfield and Foden was able to cut in with ease past scrambling Bellerin and hit a strong shot at Leno. The German saved the shot but it spilled into the danger area and Sterling could not miss. Xhaka had been ahead of Ceballos, and when Mahrez found Aguero in free space in midfield the rusty Argentinian was able to run away from Ceballos and feed the young Englishman. We had three in defence but all were running back and there was no shield for the defence from midfield. It was poor positioning by the team and Luiz should have provided better cover for Bellerin as the cutback should have been anticipated. Some have criticised Leno for palming the ball away to the danger zone but it was a reflex safe (and Martinez would not have done better!) and it fell fortuitously to a free Sterling. That's football.

Once again our left side was our most dangerous one

and it was a joy to watch how Tierney and Saka – often left too isolated by fellow 'attackers' – made things happen and almost got a reward for it. Saka was our most dangerous attacker and was a bit unlucky to meet a goalkeeper in form on the night. But the boys worked together really well and they were the only ones who really tried to take the game to MC without thinking too much about their tactical instructions.
Our right side was once again too quiet, and I reckon this is due to Pepe's lack of ball controlling and passing ability and Bellerin just not being a wingback for the Twenties. Launch Pepe into space and he can be a menace but in these dense, space-less games we need him to hold onto the ball and do the intricate passing football with his teammates. Willian played a more central role and was often too isolated, and his partnership with fellow players is as yet not ideal shall we say. There is more to come from Pepe and Willian of that I am convinced, and we need it as we cannot rely too much on our left wing for our attacks at the moment. I also believe that Soares is the better option as wingback.
Our biggest issue is that, once we got unluckily behind,

we were not able to, or did not dare to, push up and put Citeh under more sustained pressure

. When you saw how easy it was to score against us when we are out of position, it is not hard to understand our reluctance. Arteta knows that and was hoping that we would once again take one or two of our (few) chances when they would occur (which they did eventually). I applaud this as many a 2010-18 Wenger team went out on full attack after conceding the first goal at Man City and got then punished mercilessly. Once again we were in this game till the end, as we were v Pool in the league, and that is progress. We want more and it will come but we need to remain patient.
Unfortunately, we tired in the last 25 minutes and this was to be expected. Xhaka (after full on international games v Spain and Germany the week before) especially became less effective then and Ceballos – who played overall a disciplined game – was also tiring. Partey got only 10 minutes and maybe Arteta should have put him on earlier as to reinvigorate our efforts. I guess the game just came too early for our new shiny signing but I liked what I saw of him nevertheless.

Instead, Arteta had hoped for re-invigoration to come from the introduction of Laca but this backfired

. His passing was rusty and his runs and positioning did not cause the Citeh defence any issues. I don't think Alex is suitable for being the supersub for us: this man needs to grind out performances from the start: he is more of a wolf than a jaguar.
My final observation goes to Gabriel dos Santos Magalhaes who looked solid and confident. Yes our player with the highest number of passes this season misplaced one or two balls, but I never worried about him and he looked so at home in that game. He so strong in the air and on the ground and he combines great intensity with calm almost continuously. This is Sol Campellesque if you ask me and a big positive to take away and build on.
By TotalArsenal.