Well that was a dreamlike Thursday evening game of football in the City of Roses. Molde stayed in mold with some disciplined positioning and determined defending, but we had all the answers for it. The Gunners pushed up high and had plenty of footballers in and around the opponent's box, and then the chances came as by magic. If there was a game that shows a typical creative nr10 may no longer be needed, it was this one. Combine, probe, run and pass and the chances will come. Arsenal had 18 shots, nine on target; our opponent had 1 shot on target.
The four at the back stayed in position and all played a decent, traditional defensive game. The only way Molde were going to score was via speculative crosses into the box, and initially both Soares and AMN were guilty of letting their opponents cross the ball without being chased down quickly enough. That let to a few hairy moments and Molde got very close to a goal, but poor – in more than one sense – Sinyan missed the goal by a whisker only then to violently hug the post with both of his legs as well as his manliness! Aiaiaiai!
I loved that Arsenal pressed Molde in their own half but also the way we worked the ball out of defence with both Xhaka and Willock playing some fine midfield football, working the ball forward quickly and decisively so our wingers could be reached in time and in the right areas. As a result we saw some quick and easy on the eyes attacks and some good old fashioned wing-play by both Pepe and Nelson, who both tormented the sturdy but mostly unexciting Norwegians all night long.
Arsenal scored three classy second half goals and have now qualified for the next round in the UL. I don't think this has ever been easier for us as all three opponents were not of EPL standards, BUT it is still not easy to gear the team up and put in a committed performance on a dark and cold night in October and November, and Arteta has managed to do so in all four games. And that goes a long way.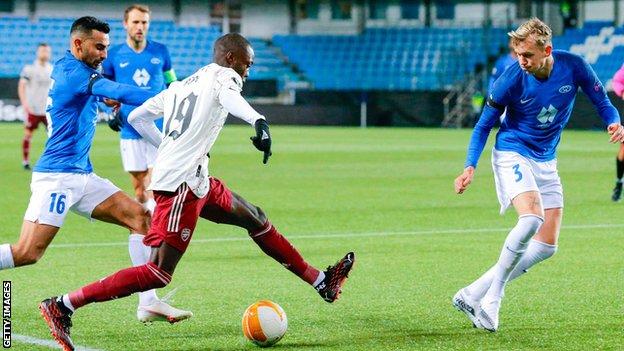 Player Ratings:
Rúnarsson: 7 – I liked his composure and body language and at times I thought Leno was in goal. Did almost nothing wrong and will feel good about his performance.
AMN: 8 – Loved his maturity and ease on the ball at the back and in attack. Really showed he is ready for the PL games. Arteta must play him more or we lose him.
Luiz: 7.5 – Committed and Led by example.
Holding: 7.5 – Took over from Luiz seamlessly.
Mustafi: 7 – Tidy job.
Soares: 7.5 – Tiday job with some nice link up play with midfield and attack.
Willock: 8.5 – Mature and measured performance in central midfield with two fine assists. Very close to MOTM.
Xhaka: 7.5 – Solid, calm and driven.
Pepe: 9 MOTM: Found his inner-Robben and his left-peg was on fire all night long. Great goal, great balls into the box and good helping out in defence and midfield.
Nelson: 8.5 – Also very close to MOTM. Just wonderful to see a player attack players and make space and thus chaos and opportunities. Took his goal well from a peach of a Willock cross.
Eddie: 7.5 – Unlucky not to be on the score sheet after a great poke-in, but also missed an easy header from a sumptuous cross by Pepe's left wand. Worked hard to keep defenders busy and create space for others.
Laca: 5 – Was he at the game all that time or did he have a little hide-away under the pitch? It's like the game more or less passed him by; I wonder how many touches he had. Lack of form or motivation? Or am I too harsh?!
Subs (other than Holding):
Ceballos: 7 – Took over well from Xhaka when the game was won. Some fine passes.
Tierney: 7 – Arteta just added class to the final 15 minutes of the game.
Smith Rowe: 7.5 – Loved his added drive and half a point extra for a well measured assist. Welcome back ESR!!
Balogun: 7.5 – Did not get much time from Arteta but needed even less to get on the score sheet. Fine goal reminiscent of Wrighty: good first touch, quick turn in the box and just hit the fecking target. Well done and welcome to the first team, Folarin. I can see a song coming for him: Fooolarin Oho, Foolarin Ohohoho… 🙂
Finally,
Rest in Peace Diego Maradona
Hymn of the Cherubim (Excerpt) – YouTube
By TotalArsenal.