Nuno and his magnificent Wolves are coming to the Home of Football and what a game it will be. As a Dutchman I have a great dislike of the Portuguese way of playing football (in general): Oranje have lost more against the Portugal national team than any other nation. They sit back and absorb all pressure to then spring the deadliest counters and the Dutch fall for it every time. When Man City were beaten by Mourinho's 'Portuguese' boys last week, it was so reminiscent of the way the Dutch used to get defeated by 'them'. And of course we know that Arsene's Arsenal succumbed to the same faith so many times when playing a JM team.
The beauty of Nuno's Wolves, however, is that they play a more attacking kind of football without giving up on their strong defensive shape. They position really well and pass the ball round with a plan from out of the back, and with precision and a keen intent to get it forward. It is easy on the eye, unlike anything Mourinho comes up with. I have asked myself a few times whether Arsenal should set themselves up in a similar way with the added benefit that we have more money to both keep hold of our best players and buy the better players to make this system really work. I am still not sure whether the MC and Pool models of pushing the opponents into their own half and dominate possession with tons of passes and triangles is the way forward for us, or indeed top football teams in this decade. A change might be in the air.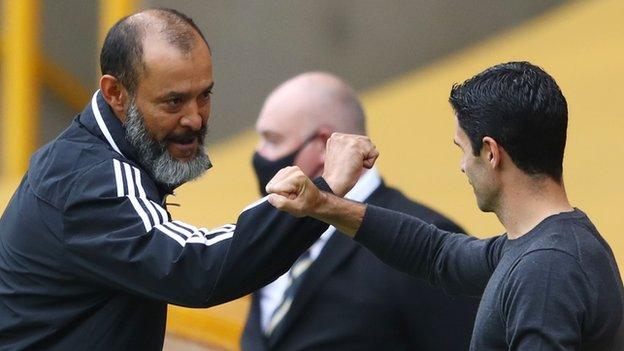 Arteta is rebuilding the way we play and he will need to set up the team carefully as to not suffer a similar fate as against the Villains or Foxes earlier this season. The team news is: Elneny is available but Kola is not; Willian is available but Partey is not.
Wolves have managed three draws in a row at Ashburton Grove recently, and once again this will not be easy. Yet I have a feeling Arsenal are ready to push on and this is just the sort of game the team needs to make a good start of the ten games that lay ahead between now and the end of the year.
I would like us to line up 3-4-3 as to incorporate Luiz in defence who is too exposed in a 4-3-3 set up. We need his organisational and leadership skills, plus he does that ball over the top really well. The full backs are clearly Tierney and Bels at the moment even though the latter remains unconvincing in defence at times. The centre of midfield are likely to be Xhaka and Elneny.
Up-front we have options. Saka is fit again, Auba will play, Willian is fit, Nelson had a strong game, Pepe is suspended and Laca could well be fired up after a disappointing game v Molde. Eddie and Balogun may also be in contention.
My preferred, and half expected, line up is (replace Partey by Elneny):
Alternatively, IF Arteta goes for a 4-3-3 formation (not wise against a 'Portuguese' team imho), we could see something like this (once again, Partey is replaced by Elneny):
It is a long wait till Sunday evening but it will be worth it.
Come on You Rip Roaring Gunners!
By TotalArsenal.