Well that was just fun to watch, especially for those very lucky 2000 fans.. We pressed high, passed the ball round really well and never gave the opponent much time to think or control over the ball. We can analyse the game and Arteta's tactical changes over the next few days, but here are my player ratings for now: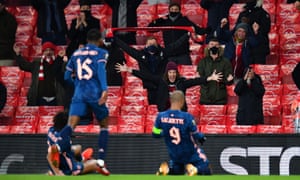 Rúnarsson: 7 – not much to do and not really at fault for the goal. Good interaction with fellow players and cover behind the defence.
Soares: 7.5 – looked comfortable at right back and worked well with Nelson and then WIllian. There is a nice balance to his play.
Mustafi: 7.5 – solid and relatively calm performance. His quick and often accurate forward passing is a big plus in our team.
Mari: 8 – extra point for the goal and his leadership on the pitch. Good to have him back. Close to MOTM.
Kola: 7.5 – less effective in attack but relatively calm in defence – half a point extra for the double block that almost prevented a goal.
Ainsley: 8 – so calm and yet such a force wherever and whenever he is on the ball. There is a total footballer somewhere in AMN.
Elneny: 8 – The Egyptian is a defensive midfielder and Ceballos is not. Excellent positioning and protecting the shape of the team, very nice ball circulation.
Nelson: 7.5 – the gadfly (together with Pepe and Laca) who never let the opponent rest. Give him the ball and he will get things moving and thus add another dimension to our game.
Lacazette: 8 – fabulous goal and great work rate. Really enjoyed playing in the hole and make things happen for the team. Really needed this game and that goal. Close to MOTM.
Pepe: 8 MOTM – what a performance for the team. Never sulked and just kept driving forwards with incisive passing and deadly dribbles whilst also using his head to make the best choices on the pitch. Was simply unplayable. Only thing missing was a goal.
Eddie: 8 – worked very hard and kept defenders busy, and he also got his goal albeit with some luck. There was more for him in this game (and the same goes for Laca) but it will come.
The Subs
Ceballos: 8 – superb 30 minutes of attacking midfield play. Picked passes at will and helped us keeping the tempo up. Plays so much better when we press high rather than sit deep.
Willian: 8 – also a superb 30 minutes of attacking football. Played with renewed vigour and invention.
ESR: 8 – just like the boys above, he brought renewed energy and purpose to our midfield play. And a goal as well.
Chambers: 7 – took over well from Mustafi and helped us see out the game.
Balogun: 7 – needed more minutes on the pitch but he showed great movement and had good connections with his fellow players.
By TotalArsenal.