Spuds 2 – 0 Arsenal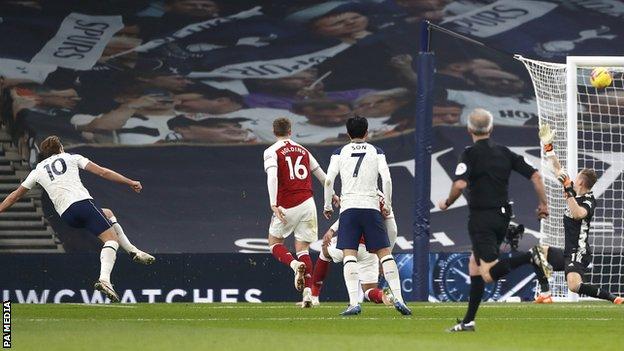 So that was painful to experience, especially the first half. What not to do against Mourinho…? Allow them to give us the ball and go attack them whilst they are sharpening their knives. Yes it was a great goal by Son the Spud and the keeper should have done better with his positioning, but the fact was that the goal was predictable to a large extent. Our weakest side defensively is the right one and whether it is Mustafi or Holding, or whoever we play as RCB it seems, we just cannot get it right. This is largely due to Bellerin role of wing-back, one that does not suit him as he is not a natural winger and finds it hard to defend properly when played in such a way.
Half moon face received the ball in midfield, he passes it to Son the Spud and a dangerous attack is on us in just two moves. Even if that worldy by Son (made me think of Pires) had not gone in, sooner or later we would have been hurt from that flank/combination. The gap was there, and it was done. After conceding the first goal so early, what were we to do? Attack more and leave gaps only for the second one to go in at some point. Painfully, it came just before the end of the first half, and that was that. Bellerin joined the attack and for some reason decided to pass the ball behind Auba rather than in front of him so he could try and slide it in…. The Spuds break from that move and in no time have four attackers against two totally unprotected CBs. So painful to watch.
I wanted Elneny on the right side of midfield, so Partey could do the b2b stuff without leaving gaps behind him that neither Bellerin or Holding could fix. But I am no football manager and WTFDIK.
In the second half the boys put up a fight and they made me proud. It looked futile and that is probably how they felt about it, but they did not hang their heads and if either Laca or Auba had had a bit more guts, quality and luck, we would have been back into it. It was not to happen and that didn't surprise anybody, as the team are in a valley psychologically and our opponent have the dirty wind of Mourinho in their backs and are on top of the mountain right now. For many, many years it has been the other way round but not so at the moment. Yet I believe Arsenal have the better future and I would not swap with the swamp dwellers one bit.
Player Ratings:
Leno: 6 – not much to do and was caught out a bit by Son the Spud for the first goal.
Tierney: 8 – shared MOTM. he is better than Bellerin in every department and delivered some phenomenal passes whilst defending with ease. Played with the right spirit for 90 minutes.
Gabriel: 7 – love that guy. Utterly unfazed by the occasion and just power and brains everywhere.
Holding: 6 – he is no Gabriel but was left far too unprotected by his colleagues. Has no relationship with Bellerin which is very costly to us.
Bellerin: 5 – asked to do a role that does not suit him, which makes his defending look much worse than it is. Has no relationship with Holding which is very costly to us.
Xhaka: 7 – much maligned player and I hope for him that Arteta will let him go back to the continent where he will be much more appreciated (and that is against my selfish wish of keeping him). Kept the left side of defence/midfield/attack ticking over as he always does.
Partey: 6 – loved his b2b stuff and fight all over the pitch, and he showed the right spirit from the moment the ball started rolling. Yet, he left gaps behind him and I am unsure whether he was instructed to play a more advanced role or not, but that cost us the game. I feel that Arteta is mostly to blame for this, though.
Saka: 8 shared MOTM – like Tierney he played with the right spirit all game long. Tried so hard to create chances and space for others despite being bullied throughout the game by the vile Spuds. Never gave up and ALWAYS wanted the ball. Fecking loved him for it.
Laca: 6 played with the right spirit from the start and made a nuisance of himself in the Spuds' box and allowed to keep the pressure on them in front of their 'D'. But no goals (or assists) once again.
Auba: 5 his fellow attackers and 'suppliers' worked their socks off but Auba is so out of form both mentally and technically. I don't think it is a lack of attitude but Pierre is in a bad place right now. We have to stay behind him.
Willian: 7 a fans' favourite for ire but I saw a very driven and committed player who was desperate to get us back into the game and made some fine moves and passes.
Subs:
Ceballos: 7 – sat back and stayed in position and had a very good half in Partey's position.
Eddie: 6 – brought some new energy.
By TotalArsenal.