With nine points to be won or lost in six days, now is the time to make a change for Arteta.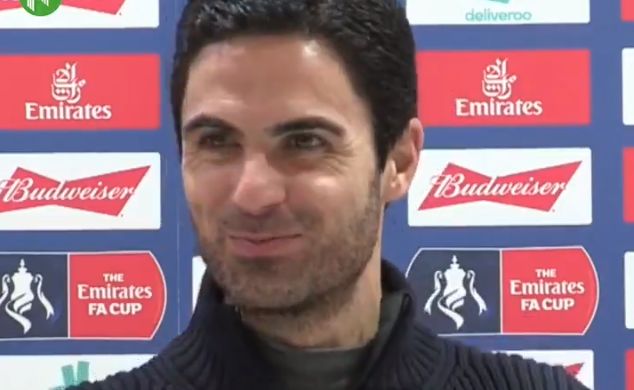 Three at the back. Everybody who can count to three knows that Mikel will have to fall back on his previous formula for success. The right side of the team is not working well, we don't have a top quality nr.10 and also miss a CF that can do it all. But we have a very good set of players to sit a bit deeper, control the game at the back and create enough chances to win most of our games.
The latter is much less sexy but Arteta simply has no choice at this juncture: the current style and set up is not working and remaining in the bottom half of the table is untenable. Something has got to change.
Going back to basics is not something to be ashamed about. There was no proper summer break to really work with the team and establish a new way of playing football. C19 has truly messed everything up and every club is in survival mode and hoping for the best.
Playing 4-3-3 attacking, beautiful winning football is the end game, the apex. Mikel tried but until now failed, and it is time to put his plans on hold for a while. Try again in August. Now it is time to start winning games again. We have three PL games in six days coming up next; that is nine points to win or lose. Imagine if we win these games – two home games against Burnley, Southampton and an away game at Goodison Park – how different our position in the table would look like?
Arteta is young and he has learned so much in the last twelve months. By the end of his first calendar year as manager he will have faced both Jurgen with the Teeth and Slap Head Pep a whopping four times in all competitions. It is truly amazing that he has been victorious over both of them already – both teams of exceptional quality and fully developed to conquer all. Neither Wenger or Emery pulled this off. But he really cannot afford to keep losing winnable games because of a change of philosophy/ an apparent stubbornness to see through his vision and will, come what may. For this he is too young and inexperienced and our fan-base is simply too impatient.
So what would our strongest team look like with three at the back? Would it be 3-4-3, 3-5-2 or 3-4-1-2? Let's discuss this on the blog today.
I have given it some thought and came up with the following formation and line-up:
All of a sudden it seems we have plenty of players who will compete with each other to make it into this set-up; there is quality in all positions and by moving the line of five in midfield effectively between defence and the two central attackers we should be both solid when we are defending AND on the turnovers, as well as aiding the attack much better.
The above team would use the whole of the attacking area much more and focus less on continuous, narrow and claustrophobic wing-play on either the right or left. This is tiring and also very un-Arsenal like. We have always been a team that has a strong and dominant midfield in the good Wenger eras (and then use the wings too of course). Arsenal have the players to dominate midfield and to use the area in front of the opponent's 'D' much better. But Arteta has to play with a nr10 and it is exactly what he has been doing recently. In an ideal world he buys a beast of a nr10 who creates and scores bag fulls of assists and goals. But this may have to wait till the summer and we have a few players who may well turn into such a beast: Willian has the experience but is still to find his form; Martinelli could revel in that position once he is fully fit again, and of course we have ESR too who now is knocking hard on the door for first team opportunities. I also think that Saka in the hole could work a treat.
By playing more through the middle we are less reliant on aerial qualities of our CFs, and thus use their strengths much better. They need to be mobile and link up well with the midfield. And maybe that is the biggest challenge for Arteta at the moment. Many may think that Giroud is missed most for his aerial ability but his hold up play was equally important: it created space and a solid passing opportunity for other attackers and both Sanchez and Ozil profited from this continuously.
Auba and Laca are not great at playing the 'Giroud-role' and playing both of them just does not make sense to me anymore. Here Arteta may have to be bold and force into the team the likes of Balogun, Eddie or even Moller. And when the TW opens in just a few weeks time, he can get us a Giroud like player on loan or permanently, so we have a plan B again and those wonderful crosses from Tierney, Saka, Soares and Willian will not go to waste.
Anyway, those are my thoughts but what are yours? How can Arteta quickly get back to winning ways?
By TotalArsenal.