I finally had some time to watch the Southampton PL game again and have come to some conclusions/afterthoughts I'd like to share.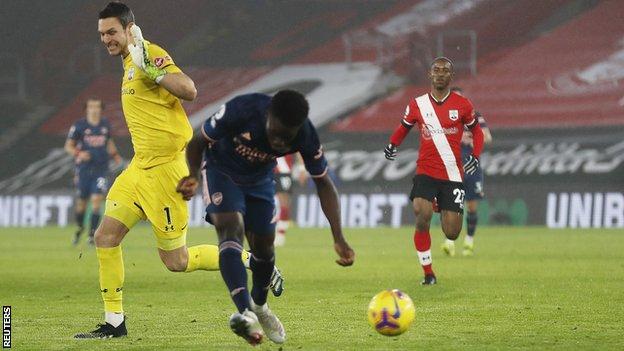 Nine Afterthoughts
Arteta made a brave decision to push up and press high from the start, with both Xhaka and Partey high up the pitch and three/ four attackers in front of them. When Xhaka played in Pepe with a measured billiard ball, there were four Gunners in the box! Pepe took the chance himself, but had he squared it there were three attackers to convert. It was really good to see so many attackers in the box. It was good to see Xhaka and Partey play in one line a lot too; both were able to put in forward passes whilst also looking after their defensive duties.
The only problem with this approach is that we left quite a lot of space between defence and midfield during the first half. The Saints cleverly positioned players in that space and through them, especially the impressive Che Adams, they were able to counter attack with speed and menace. It led to a few (half) chances and a team with better attackers could have hurt us from those rapid attacks. Arteta has to think carefully whether a similar approach v the red Mancs would be too risky or not.
He did resolve this issues during the second half, I think. No doubt the Saints were getting tired and therefore were less able to make the right runs in between our midfield and defence, but we also appeared tighter with the defence pushing up a bit more and both Xhaka and Partey, or at least one of them at any given time, sitting back more. I really liked our composure during the second half, as we had more control and everybody worked hard to deny the Saints the space and time to outsmart us again.
In ESR and Laca – they could be brothers – we have two great 'hustlers and bustlers' in the team. Pepe, like Auba when he is on the pitch, tried this too but he/they are just not made for it, somehow. The brothers constant movement and challenging of opposition players does not allow them much time on the ball and it makes our game so much less predictable. Then a bit deeper Xhaka and Partey do the same but with a clear instruction to protect the shape (and tactics) of the game. I was also impressed with Cedric's ability to hustle players and deny them time and space.
It was really interesting to observe Saka in this game. Give him the ball and he will produce danger. We attacked a lot via the left and this gave Saka a lot of space to operate in. Bellerin may be our weakest link right now, but he does help with giving Saka an outlet and he is a decent passing partner too. Bukayo left Bellerin a bit too much on his own in the first half, but this changed in the second half; I wonder whether Mikel had told him to give more support. Saka is playing the 'Pepe role' on the right so much better than Nicolas right now, and he was a formidable weapon during the game. Cedric found him with a Beckham-esque high-diagonal ball in an ocean of space, and then he produced a peach of an assist that Laca would have scored with any part of his body other than his arms. On a number of occasions Laca went deep and Saka forward and the young Englishman was able to stay on site a few times. The Frenchman was clearly instructed to pass the ball to Saka in these situations and it paid off for our all important second goal. This 'free' Saka role is an interesting development; he played in a sort of Auba role in fact.
We must guard against giving opponents too much space and time to put crosses into our box, especially from the wings. This is where Bellerin was below par (and Saka should have offered more support initially). We also have to protect our 'D' area better from shots and intricate passes, and for this the central midfielders have to come deeper at times (but this improved a lot in the second half). It may take time to get the balance right in the new system.
Leno was once again solid and his presence and confidence really are energizing and protecting our team. Our CBs could have been more solid on a few occasions, but Leno was there anyway to deal with the danger. Somebody said on the blog that Bernd is the best goalkeeper in the PL. I am not ready to say that but he is getting better and better.
One of the questions I asked myself whilst watching the game again was: where and how do we need to improve as to beat the Mancs on Saturday? As said before, I feel we need to keep the space between defence and midfield to a minimum, either by all pushing up or by sitting deeper, or a controlled combination of both. We may need a more dynamic CB than Luiz for this, and I am hoping Big Gab is fully focused and fit again on Saturday. Same goes for Tierney who is great at recovering runs and good positioning. It may be best to play Soares on the right, as he is the better FB of the two at the moment. Reintroducing a hungry Auba could also make a big difference, but Martinelli is also chomping at the bit right now; so we have options. Saka will have to play a more defensive role but then surprise the Mancs with a few great runs and dribbles.
Finally, if I could buy a player from the Saints, who would it be? There are a number of players who could strengthen the Arsenal squad. Ward-Prowse would strengthen any team, both with his skills and mentality. I really like Bednarek, the 24 year old Polish CB. But we have enough good CBs right now. I also liked Che Adams a lot and I think he would be very good in the Laca role. At just 24 there is more to come from him. So I would go for him.
By TotalArsenal.