Well that was exactly what the Gooner-doctor ordered: a strong team performance and a win. Four goals and twice hitting the woodwork as well, the boys were up for this alright!
Unfortunately, the boys conceded two good Leeds goals in the second half but overall this was a good performance by all. We will analyse the game in the next few days but for now here are the player ratings.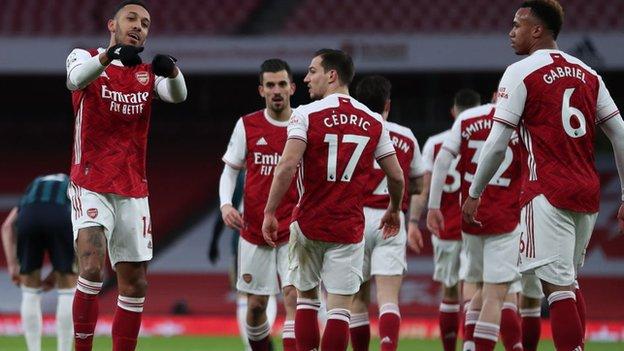 Player Ratings
Leno: 7 – not at fault for the goals and had not much else to do.
Soares: 7.5 – really mature performance and gave his all. Snappy in the one to ones and some fine passing.
Gabriel: 7.5 – really lively and aggressive performance by Big Gab.
Luiz: 7 – steady performance, maybe could have done better positionally with the two goals conceded but he usually plays LCB not RCB. Some good defensive interceptions and calm leadership.
Bellerin: 7.5 – partly at fault for the second Leeds' goal but an extra point for a fine goal. He may not be our best defender but his attitude is always exemplary.
Xhaka: 7.5 – a very mature and calm performance. Such good positioning and quick, simple passing. Half a point extra for his assist for Auba's first goal.
Ceballos: 7 – great, clever assist for Hector's goal and some good passes, but seemed to disappear during some spells in the game. Half a point extra for assist.
ESR: 7.5 – worked hard and positionally strong, fine assist for Auba's third for which he gets an extra half point.
Odegaard: 7 – worked hard and brought good energy to the team. Some quick thinking and passing, a bit Ramseyesque at times.
Saka: 8 – Bukayo was again the Silk on the pitch. His movement is so graceful and yet powerful, his first touch is glued on and his passing quick and incisive. Half a point for getting us two penalties, even if only one of them was eventually given (for some reason). We have some player here!
Auba: 10 – MOTM – his first PL hat-trick and with a bit of luck he could have had another two. He really benefited from the space Leeds gave us and the hard work by the three attacking mids behind him: Saka, ESR and Ode. Always a threat and really enjoyed himself today.
Subs:
Willian: 5 – struggled to get into the rhythm of the game and did not add much.
Elneny: 6 – steadied the ship a bit.
Holding: – not long enough on the pitch to score him.
By TotalArsenal.