Well beforehand I was afraid of the last twenty minutes of the game but all the damage was done in the first twenty instead. That is the unpredictability of football for you!
But the boys did us proud with a stunning turnaround and in the end they will feel sorry for not getting all three points.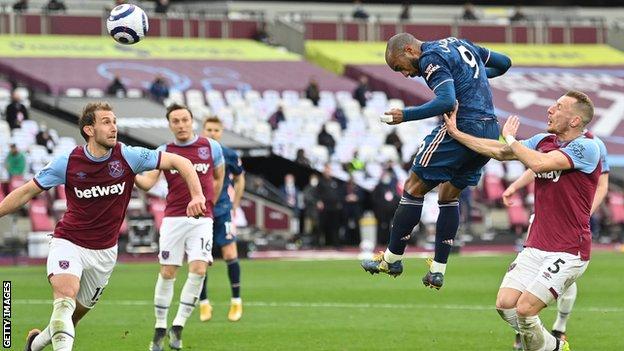 Eight Observations
It was both bizarre and painful to see us concede two goals early on, followed by a third one after just 32 minutes, and we were all fearing the worst. Was it going to be one of those nightmare days? The first one, although not without mistakes by the team, was one to accept and value. Lingard's strike was sweet and deceptive and Leno, who excels at shot-stopping normally, could just not get his hand to it. The second goal should not have stood as the referee let the free-kick be taken from a different spot from where the foul had been committed, but we were also badly positioned and dealt with Lingaard's cheeky move poorly. The third goal saw some bad positioning from us and then we were beaten by a quality, old-fashioned downward header. 3-0 down and what is going to happen next?!
There were three players who stood out during this game

and they are all my MenOTM

. One directed the game like Beethoven's ninth symphony, the other one totally surprised us with his fast-as-a-shark attacking contributions and the last one because of his ferocious, Centurion energy and attacking spirit. I will cover these three in the next few observations. What matters in football more than anything else is fighting spirit: a burning desire to defend the shirt. I am annoyed about the way we gave away three goals but these things sometimes simply happen, especially to teams that play Thursday UEFA League football. We missed the mobile bull-with-brains, Big Gab, hugely yesterday. Mari was left unprotected by Tierney, Xhaka and the rest, possibly because they got so used to Gabriel bossing the whole area. Mari just does not have the same mobility and of course had not been playing for a while… Before we knew it we were three down, two of which came from Mari's/Tierney's/Xhaka's area. We were still cold and the Hammers were super focussed and we paid for it. YET Arsenal's heads did not drop and the fight was taken to the opponent with real intensity. They made me proud to be a Gooner.
The chief creator was a our loan player from Madrid: MO11. Odegaard had a superb game and totally took the game to the Hammers from midfield; it was a Bergkampesque performance by young Martin. I was so impressed with the team keeping the ball so well whilst West Ham pressed us from deep so aggressively when we were attacking, and Ode just kept finding space and players. He was comfortable with the ball and his passing was sharp and decisive. He was our chief creator, the master of attack, and the team were buzzing around him.
Pushing up the full backs may have cost us a couple of goals – Moyes had done his homework well – but it also made a couple. Tierney put in some fine crosses and provided a constant threat from the left, and Chambers was brilliant in attack and my surprise of the day. He should have had two assists but for the OG has no assist maker rule. Calum produced fine cross after fine cross all game long and had a decent display in defence too (after initial rustiness). I love a player who takes an opportunity when it is there for the taking: Chambers did that.
In attack, Laca was really impressive. He worked so hard and got in promising positions. Okay he was a bit lucky with the slight but vital deflection for his first goal but his second goal was pure determination and good timing. Laca, maybe for the first time since joining the Gunners, seems to have found his place and role within the team. He hustles and bustles, he is a thorn in the side of any defender, he links up well with his fellow dynamic team mates and he has the bite of a puma.
In stark contrast, Auba is struggling currently. He is limited with the ball as a passer and is best suited to be launched into space, when he is simply world class. Football is changing rapidly and relying on a (world class) specialism may no longer suffice, as Mesut and maybe now Auba have come to realise. I remain a big fan of Pierre and am glad he signed for us last summer, especially for the psychological effect this had on the team and the club's image. But it looks like combining him with Laca is not a good idea. It is a work in progress but it is important that we as fans stay behind him. You cannot turn a tiger into a wolf, but if there is one player who can score the all important goal in a top match it is Auba, so let's cherish and (of course) support him. Mikel will find a way to keep getting the best out of him.

There were plenty of moments of beauty in the game.

Some of Laca's balls to Saka were exquisite, and the latter got very close to scoring our second goal before the break which would have made it 3-2 at a vital moment. Tierney's runs to the byline and well timed passes into the box are a joy to watch, and I already mentioned Chambers' marvels into the box. But the absolute moment of heavenly football was certainly the moves for our third goal: once again Odegaard started it off with a well measured pass to Pepe into the box; the ball was so perfect that Pepe dared to cross it in one go with his weaker(!) right foot; what followed was an exquisite cross toward the far post past goal keeper and defenders that is a striker's dream (and a defender's nightmare); and there was the by now surely tired Laca who timed his run and jump to perfection to head-thump the ball in. What a joy of a goal.

Forget results etc for a moment; this is what football adds to humanity's art scene.

Mikel has to ask questions to his team why we were so open on our left side throughout the game – from where we even almost conceded a fourth goal late on but for the post coming to the rescue – and why we started so disorganised. This remains a work in progress and everybody knows that it cannot continue. Our over-reliance on Xhaka as left-footed, deep midfielder, for whom we just do not have a like for like replacement, is a concern. Granit cannot be blamed for any of the goals – some have done so but for them he simply is the cause of all troubles in the world. It is impossible to expect him to play so many games per season and not have a game now and again in which he is less dominant (but still okay). I saw a fatigued Granit yesterday as he would not have allowed any of the space we gave away on the left normally. Furthermore, Thomas remains a work in progress for us: the talent and strengths are there at times but fully fit he is not, and it hurts us at times. With two games every week, three in effect from weekend to weekend, we cannot expect the Granit-Thomas partnership to keep us motoring on all season.

Still I am proud of both of them for their workrate and passion for the shirt, and hopefully Mikel will get one or two extra midfielders this summer

.
By TotalArsenal.