Burnley – Arsenal: 0-1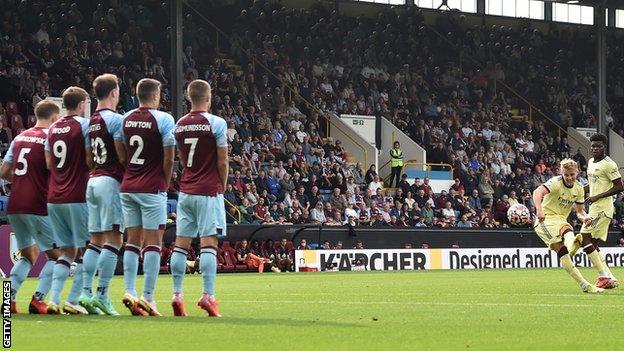 Having had a chance now to watch the game, here are my observations:
We may not have an oligarch owner (thank God) but we do have our own Oilygaard.

Martin really lubricates the new yet faltering machine

and what an important buy he is becoming for us. He topped it off with the only real moment of quality in the game; his freekick was simply unstoppable and how good is it to score one again?! An Ode to Joy. Actually when did we score our last freekick in the PL- Admir? Martin could be found all over the pitch and was especially strong during the first 60 minutes or so. My joint MOTM.
Unfortunately, I cannot say the same of the other blonde in our squad.

Emile wasn't present(!) enough and I am still not sure what his role was

on Saturday. Yet, when he picked up the ball in midfield he drove us forward with menace and speed, and it was clear that more involvement of ESR is key for the team going forward. In fact, making the triangle of Partey, ESR and Ode work much better is THE area to work on for Arteta. There was too much space between Partey and the Blondes and it made us slow and ponderous throughout the game.
Part of the problem was that we were playing with the handbrake on and simply too deep.

There was a lot of space between the back four + Partey and the rest of the team as a result,

and Burnley found it easy to press us high without needing to be worried too much about the quality of Gunners they left behind them to potentially pounce on them.
It was clear that Arteta really wanted to win this game on the principle of not giving them a lot of chances and expecting our quality in attack to sooner or later get it right.

The formation was exciting and promising but the execution is a work in progress

. It resulted in a second clean sheet and 1-0-to-The-Arsenal, and although it was nowhere near a game for the purists we need to appreciate Arteta's need to get a few wins on the board. And this he did.
The really important, big point to take from this game is that the boys were not out-Stoked.

Nobody will bully us anymore

. The defence worked sooo much better than they have in recent years when it comes to dealing with high balls and being roughed up in defence. Big Gab was a force, Tomiyasu added his height really well to the CB-pairing, Big Ben put in a real shift and Tierney was as tenacious and snappy as ever. There was still a bit of rustiness in White's passing but as a unit they made up for it and Ben will only get better.
And then there was our new goalkeeper,

Aaron Ramsdale

. A near faultless performance from our keeper was crucial for the clean sheet. What a great catcher of the ball, what a great communicator and team player and what a great redistributor of the ball. Together with Ode he was my man of the match.

Auba up-front rather than Laca is still hard to digest for me

. We needed a CF who is comfortable playing with their back to the goal and able to hold on to the ball under pressure, on Saturday. Auba is a tiger who loves running with the ball into the available space; then he is simply unstoppable. But Laca is much more comfortable in such a role but for some reason Arteta is not playing him as yet this season. In general, the passing between the attackers was under-par and with a bit more sharpness they could have scored a couple more goals which would have made things much easier for the defence. In the end, the defence and a moment of genius by the Ode gave us all the three points, but the attackers should be working their socks off all week to get much better connected. We definitely have more goals in us, and sooner or later (hopefully this Sunday when we are spuds-mashing duties) this will come to fruition.

Arteta's subs

raised some eyebrows at the time but they really made sense and saw us through till the end. Partey had been very influential but he was fading and new blood was needed. Tierney also looked like he could not finish the game and ESR just wasn't in the game. Lokonga, Tavares and AMN all played diligently and ensured a happy ending to a hard-fought game.
Arsenal Women
***** Are you an avid follower of the Arsenal Women's team and do you have a passion for writing? Bergkampesque are looking for somebody like you to write reviews for the Arsenal Women games. No pay but much appreciation and engagement will be your rewards! If you are interested, please contact us through bergkampesque@gmail.com ******
By TotalArsenal.