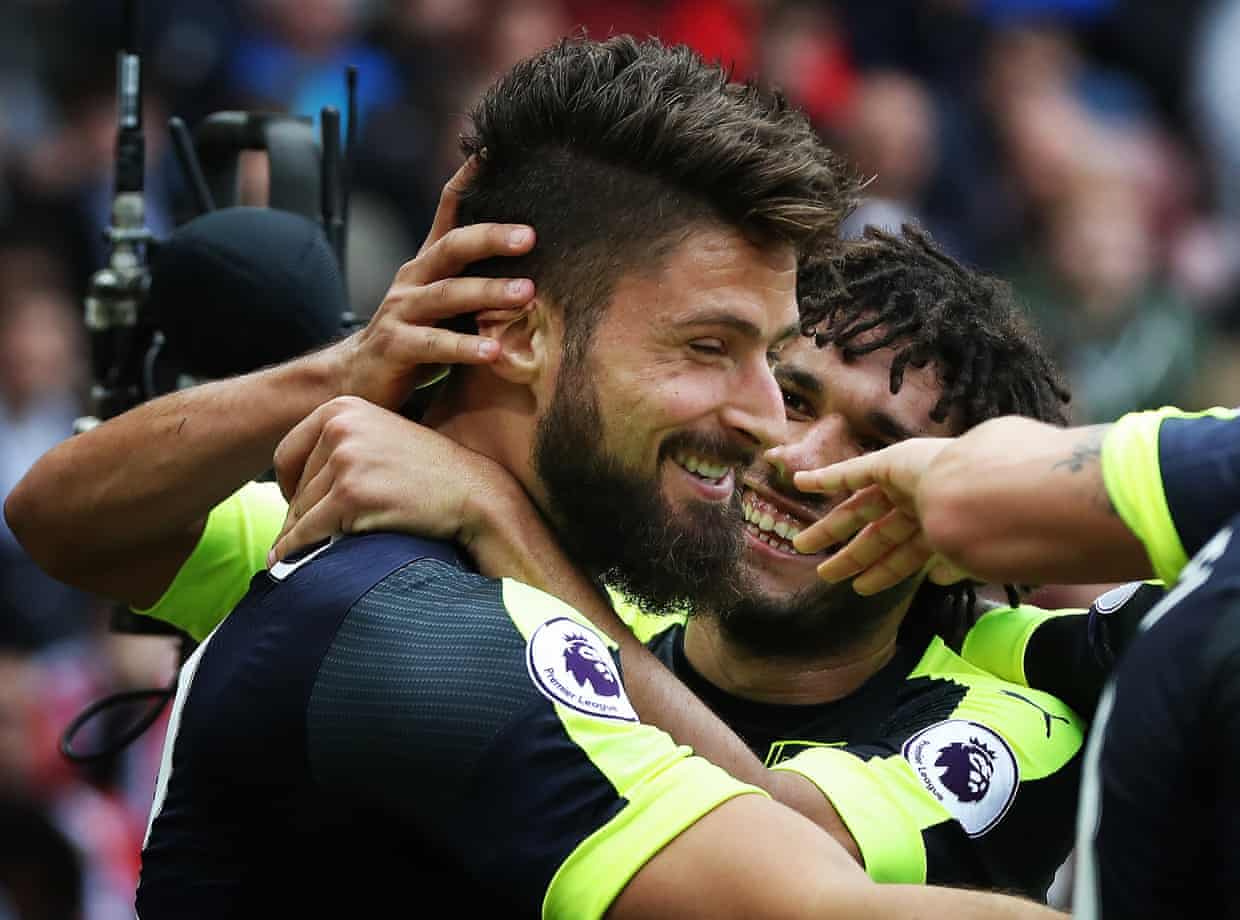 After a two hour drive through foggy hills of the very sparsely populated west-to-east very north of England, we ended up in sunny Sunderland with an hour to spare. After parking the car close to the seaside we made our way to the ground via the beautifully named Roker Avenue. The street had seen better days and the level of  littering was quite a surprise (thought those days had gone), but it is always nice to see local supporters of all shapes and sizes wearing the home and away shirts, slowly making their way to the ground.
Sunderland is a football city, let there be no doubt about it, and the Stadium of Light is a pretty perfect football ground, especially when the sun is out and sparkles everything into bright colours and the playing service looks like snooker-cloth. You would expect there to be a lot of unhappiness given the miserable position in the league table and the dire football on display, but the Black Cats supporters are thick-skinned and used to being in this position. They clearly were looking at this game as a bonus of some sort, already anticipating that bigger – my Sunderland supporting ex-colleague even used the word 'harder'- games lay ahead for them. With that they mean games that they are supposed to win if they want to survive in the PL this season.
I said to my father in law that the warm weather is a blessing for us as it will make the game significantly less 'up-northy' for the players. In fact, the north east had about the warmest weather of the whole of the UK on Saturday afternoon and the Gunners were red hot from the start. After a minute silence, immaculately observed by both sets of supporters which in itself gave me a warm and teary-eyed feeling, the game was kicked off. Sunderland set back and tried to disturb our flow of passing but also tried to hem us in in our half by playing a high line at times.
We became sharper in our passing as the game went on and Alexis was steeling the show with his energy and creativity. He set the scene for us in the first minute by chasing the keeper down and getting the ball wacked into his face from close range. The Chilean is our dynamo, our first soldier in attack, who gets everybody going. It was no surprise that it was him who opened the score, even though it was with a Giroudesque header from a classical, speculative cross from around the corner flag. When the Ox put the cross in we did not expect anything else but a clearance but when you have the energy and anticipation levels, combined with bottomless confidence, of the Chilean, anything can be turned into a goal. How he got in front of the defender I still don't know, but his header was brilliantly directed into the far corner leaving the keeper with no chance. We all went berserk and 5000 or so supporters sang the never tiring 'Alexis Sanchez Baby' song. Sunshine and smiles everywhere.
To be fair to Sunderland they did not sit back totally after that and tried to breach us on our left side. Everybody in the world knows there is no way through on Arsenal's right side of the defence with Coquelin, Bellerin and Mustafi bossing the area, but on the left side we have shown vulnerability time and again this season. Wenger is giving Gibbs a chance now whilst our fantastic Nacho man is nursing a 'Wenger-injury' in his head. Fair play to Kieran who looked really up to the task and for the first time I saw a man on the pitch rather than a promising talent.
Kieran got some support from the regularly alternating 'mid-wingers' but it was Eleneneny who became his closest defensive friend, next to the beastly Koz of course. The beauty about Elneny is his awareness of space and filling the gaps intelligently with his runs and presence; and when he has the ball he is calm and passes it on with simplicity and efficiency. During the first half we still had some defensive breaches on our left but we looked less vulnerable than in other games, and during the second half we were very much a solid defensive unit. The combo of Coquelin and Elneny might not be as sexy as it can be to many, but it was perfect for this game. They bossed the midfield and kept the Black Cats in their own half most of the time and they fed the attackers with simple and efficient passes constantly.
Unfortunately, Arsenal did not push on enough for the all important second goal. Ozil could have had another hat trick yesterday and others, such as Iwobi and Ox, missed composure and technical control to kill off Sunderland for good. Nobody cared too much about Ozil's wastefulness as the supporters' favourite song on the day was without any doubt 'Mesut Ozil, Mesut Ozil, I just don't think you understand….'. We were missing another regular/natural goal scorer with Theo out and Giroud bench-grooming his beard. Luckily the latter was regularly warming up along the sidelines and the away support warmed him up further with the 'Nananana' song, which he really appreciated.
And then came the expected unexpected… we gave away a penalty out of nothing and the score was level. We should have had a penalty a minute earlier and it took an uncharacteristic mistake – was it a slip? – by the German man-hugger Mustafi, to somehow let them back into the game, but we did it to ourselves… and that is what really hurts.
Luckily, the 'here we go again 'glass half empty supporters' favourite train of thought was quickly derailed with a blitz-krieg brace by super-sub Ollie. First he resolutely connected with his left thunderbolt foot with a fine wing-cross by Gibbs from around the edge of the box to put us in front, and a couple of minutes later he put the game to bed with the finest, almost delicate, of diagonal headers over the scrambling keeper from a fine corner by Mesut. 1-3 to the mighty Red and White North Londoners, and then Alexis added another with some very cheeky close control and finish right in front of the goalmouth.
The Sunderland support had enough and we wished them a good homecoming with the 'cheerio' song. The added 'your f*cking sh*t' song lacked collective levels of empathy and wasn't for me, but there you go. We should have scored more after that but 4-1 was a pretty fine result that sent us top of the league, which we reminded the most loyal Black Cats supporters of with gusto of course.
On the way back, my FIL and I listened to the radio and were amazed and well pleased that both Spuds and Manure did not manage to take three points from their home games. The return of the fog around the hills did not dampen our spirits one iota. It is quite telling that those who some see as our biggest competition for the title, Citeh and Pool, also managed to thump their opponents with four away goals. Still early days of course, but after ten games we are joined top of the league with those two teams and have a very similar goal difference: are the three of us, all committed to good, attacking football, going to fight it out for the title?
This week we have two more big games to play. Away to Ludogorets FC we will need our full focus to get three points and probably qualify for the next CL round – a not to be expected but never impossible loss there, is to be avoided at all cost. And then of course we play the NL derby for a six-point gab opportunity and to go into the November interlul break with the warmest of feelings. Ooh to be…
By TotalArsenal.