Well that was a lot better from the mighty red and white boys. Except for a couple of minutes in the second half, the team was in control of all areas on the pitch. Slim Sam Shady will not have expected much and his new team were poor throughout the game, but we were set up to beat them properly and so we did – even though a couple more goals would have been nice and most definitely deserved. With all our main competitors for the title except Man City winning this weekend, and the despicable Spuds leapfrogging us earlier in the day as an added concern, Arsene knew that we needed to win at all cost. This sort of motivation is ideal for a festive season home game and the boys were clearly hungry for a win.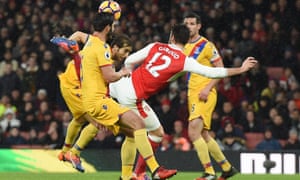 Eight Positives from the Game and my MOTM:
Giroud's back-heel flick was of course the outstanding moment of the game. Alexis should have done a lot better with his cross for Ollie as there was little pressure on him after a finely worked counter-attack by the team, but Giroud improvised with the most sexy back heel 'dink' you will ever see and that will have had Bergkamp's highest approval, no doubt. I used to do these when I was seven all the time but the team manager, an old idiot, told me it was way to fancy and should stop doing them. So to see Giroud reach backwards with his heel to still make something of Alexis' poor pass and then beat the keeper with an unstoppable, other-worldly loop, was a total, orgasmic joy. He clearly was still a bit rusty and the team seem to find it hard to switch between playing with Alexis or Giroud as our CF, but it was still good to have him back in the starting line-up.
The

Elneny-Xhaka

DM duo was awesome. They both totally dominated midfield with their energy, intelligence and healthy aggression. Xhaka is a beautiful player to watch and he quietly choreographed proceedings from the back like a true general. Elneny never allowed opponents time on the ball and his reading of the game was very good; and we all know how accurate his passing is. Together they were my MOTM.
The Wing Backs were fabulous. Wenger had clearly instructed Monreal and Bellerin to bomb forward and provide the much needed added width to our game against these sort of teams. CP had no answer to our wing play and as a result we had a lot of fun stretching their defence and getting right behind them. The final ball of both can still improve, but they played an integral role in our pretty aggressive and constant attacking play (22 shots by the whole team but only seven on target).
Iwobi managed to make us forget Ozil for big periods of the game. Don't get me wrong, though: had Mesut played I reckon we would have scored six today. But Iwobi is still learning and playing as a nr.10 is the equivalent to being top dog in astrophysics. However, you can see how he plays with his head up and wants to play the best ball possible, and he was our most creative player on the pitch with great touch and some very fine passing. What is also good to see is that Alex has a lot of physical strength and the older he will get the more beastly he will become. I loved his goal too: sheer determination to get us over the line (and we desperately needed that second goal today).
Alexis did not have his best days in terms of finishing off the few decent chances that came his way, but his energy and presence were once again very important. He missed his creative twin, Mesut, today but he still played an important teal role for us.
Perez was a breath of fresh air. He missed a little bit of sharpness up-front but his wing play was pretty solid throughout the match. He was always an option for his colleagues and helped out very well at the back. On top of this, he is a safe pair of hands when receiving and moving with the ball, and I would love to see him played more regularly from now on.
Koz-Gab combined healthy aggression with maturity and excellent tactical understanding between them; they never made me feel uncomfortable, which is a lovely state to be in! 🙂
Cech: is there a better goalkeeper in terms of being present when he is called upon? It is all about making the right decisions during the few moments our defence is breached, and Petr did this impeccably. Top man.
By TotalArsenal
Happy New Year BKers!
Let's hope light will keep overcoming darkness in 2017. Happiness, health and love to you all.