Well the boys made hard work of it but in the end the best team won, and this game will have provided Arteta with some good lessons about the level of his wider squad players. 25 shots and nine on target shows that we created plenty of chances and should not have made such hard work of it, but the Barcodes were impressive with their determination not to lose and they gave us a proper game; only by bringing on quality subs were we able to swipe them eventually. A deeper analysis of the game and 'fringe' players will follow but here are the player ratings, for now.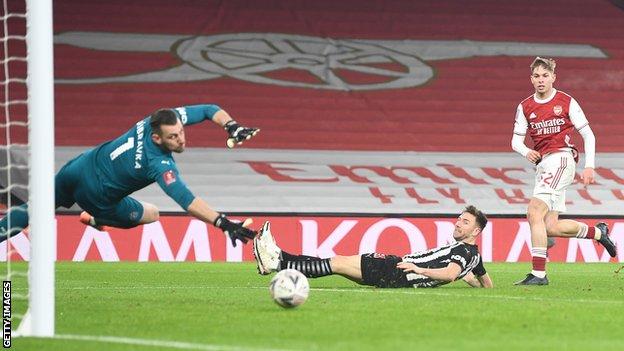 Player Ratings:
Leno – 8 – superb double save at a crucial stage in the game. Close to MOTM. Really seems to be in his element at the moment.
Tierney – 8.5 – Shared MOTM – another fantastic performance. I wanted to rest him for this game and give AMN the spot, but it became quickly obvious why Arteta needed Kieran to start against the rows of five and four Magpies. Tierney must be Gaelic for 'thrust' (it is not) because no other player has such ability to make it to the byline and put in such venomous crosses. Half a point extra for the fine assist (of which he could have had a few tonight).
Mari – 7.5 – very tidy and committed. I am starting to see why Arteta was keen on him.
Luiz – 7.5 – stood his ground and seemed to enjoy himself against Andy Carroll. Both Mari and Luiz gave very little away.
Soares – 7 – solid, non-sexy performance. It is clear to me now that he was bought to be a solid nr.2 in a key position, and he did a decent job tonight.
Elneny – 7.5 – tidy, disciplined, no-nonsense midfield-defensive play. Excellent squad player.
Willock – 5 – I so want Joe to do well but like Guendouzi and Ceballos he just misses the ' Doube DM-pivot' positioning and discipline to be a success there right now. Find space, anticipate a pass and know where the ball will need to go when you get it; work closely with your fellow DM and protect the defence, whilst also focusing on supporting the attack when possible. Joe has a lot going for him but I am starting to feel that a loan spell would do him good.
Pepe – 6.5 – this is the sort of game in which I would expect Pepe to show us all he has got. Too many bad decisions and he still lacks a connection with his fellow players. But he put in a shift.
Willian – 6.5 – similar to Pepe, I had hoped he would come to life today. Willian was one of our better players in the first half with excellent work between the lines, but, disappointingly, he faded quickly in the second half.
Nelson – 5 – a game to forget for him. Lacked confidence and seemed not to wake up during the game.
Auba – 7.5 – here was a man desperately trying to find back his great form. Worked hard and finally took his chance late on. Helped out in defence and midfield and an extra point for the goal. Great to see that smile again.
Les Subs:
Smith Rowe – 8.5 – Shared MOTM – came on at the right time and profited from the tired Barcodes' legs. Worked so well between the lines and made our 'harmonica' work again (together with Xhaka), and then he scored a sublime goal to finally bring the beast of the North-East down (extra point for this).
Xhaka – 8 – especially as long as Partey is out it will be very hard for Arsenal to win a game without Granit. He sets out the lines and looks after the shape of the team like a shepherd. He made the 'harmonica' work again (together with ESR). We played so much better once he came on and Xhaka was close to MOTM today.
Saka – 7 – great burst of energy and Bukayo added the fear factor. Good and necessary sub by Arteta.
Lacazette – 7.5 – same as Saka but half a point extra for the determined header that led to his assist for the first goal.
AMN – x – too short on the pitch to judge.
By TotalArsenal.