And The Others (Gibbs, Wilshere and Szczesny) Who Only Have One Year Remaining on Their Contracts?
Should we or shouldn't we? Hmmm…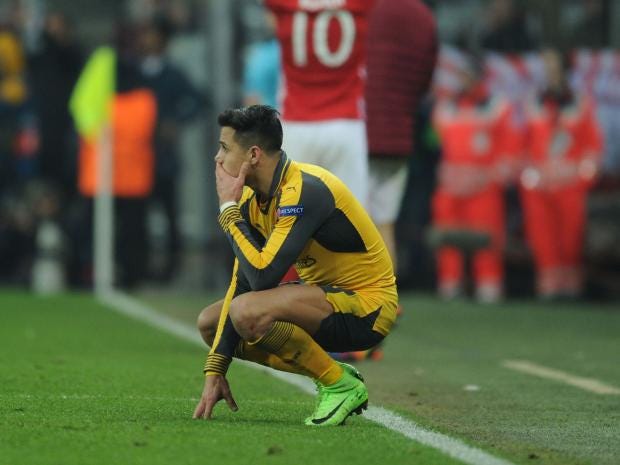 I wrote a post about Alexis Sanchez and why I believe it is in the best interest of Arsenal to sell him this summer.  I have shelved it.
Until we do sell him–or, better phrased–until Alexis forces us to sell him, who am I to try and stop Gooners from believing we should pull out ALL the stops to try and keep him? The same could be said for other players who are down to just one season remaining on their current contracts: Mesut Ozil, Alex Oxlade-Chamberlain, Kieran Gibbs, Jack Wilshere and Wojciech Szczesny.
The interesting thing, I think, is that many Arsenalistas–or at least the ones who've been around the block a time or two–seem just as concerned about keeping our current players as they do about bringing new ones in during this transfer window.  It speaks to the idea that, even with all the angst surrounding the manager AND the fact that we're coming off our lowest finish in the league in 20+ years–and facing Europa instead of Champions League football–we're not that far off.
That last bit, not being able to offer Champions League football, is, in my opinion at least, a problem.  Great players want several things.  Big contracts are important, of course, but being able to play at the highest level–and having a legitimate chance at winning in those competitions–means something too.  Being loved by the supporters, as much as we'd like to believe it's important, probably ranks as a lower priority.  The next club will have supporters too, and hey, at Arsenal, Gooners may have already booed our guys a time or three.  God forbid if players google themselves after a disappointing result.
All things being equal (in terms of contracts on offer), playing CL football, I think we must admit, could tip the scales.  Alexis to Bayern Munich, Szczesny to Juventus or even Ox to Liverpool could have plenty of fire to match the smoke, I fear.
Of course, being under contract–even if it's just for one last year–gives Arsenal the final say.  In my next post I'll try and examine the Bosman rule and what that might mean to our club regarding these same players.  Be forewarned, it's not a good thing.  One of the most successful Bosman transfers–and one that caused the supporters of a certain club a LOT of anguish–was that of Sol Campbell from Tottenham Hotspur to Arsenal.  Being on the wrong end of a Bosman may not suit too many Gooners.
There's a money element as well.  Good players demand big salaries and/or long contracts, which can take away from Arsenal's cash reserves.  Incoming transfers, although they mean payments to other clubs, can represent a jump in level–and salary–for players coming our way and actually yield savings when amortized over the length of a contract (or if a player is re-sold).  In other words, we might have to put on our green eyeshades and do a little accounting.
But that can wait.  For the moment, I want to hear what folks think about trying to keep our players nearing the end of their contracts.
I have to admit, I'm (mostly) a sentimentalist when it comes to our current players.  I tend to look at them as human beings–with all their strengths and frailties–and emphasize the good over the bad.  Maybe I just fear change and tend to believe that things could get worse instead of better and that we ought to appreciate what we've got at our club.
That doesn't sound like your average Gooner, of course, but we're an optimistic bunch (generally) here at Bergkampesque–even if said optimism means an ever smaller circle of regular participants in the comments section.  If you clicked on the headline (and are still reading), please chime in.
And, if there's ever a season meant for dreaming, it's summer.  (Beyond hopes for building a winning squad at our club, I'm currently dreaming that I fit into my swim-shorts just a little bit better…)
So, let's be having your dreams.   Who should we we be buying–always the topic that brings the most fun–in addition to the (only slightly…) more mundane questions about who should stay and who should go?  Sorry, no dreams about Wenger out.  Surely–barring vile chants being realized–he'll be the one leading his squad onto the pitch, at least for the early games of the upcoming campaign.  Let's talk about first 11s (and the deeper squad) and how far we might go next season.  Trophies?  Higher placings?  Top goal-scorers?  What else?
It ALL seems better than me trying to spin my (harsh) "realities" into positives. (Next time, perhaps…)
So, who are we keeping and why?  Who must go?
Who should we buy?  For whom would you break the bank?
First 11?  2nd 11 or other important squad players?
What do you see Arsenal able to accomplish in 2017-18?  How high can we finish in the Premier League?  Cups?  Can we defend the FA Cup or maybe use our youth & squad depth to go far in the League Cup and get through the group stages of the Europa League?  Can we win either of those?  Etc., etc., etc…
It's time to share your hopes and predictions for the summer & the season to come.  In other words: Don't Worry, Be Happy.
Go on then…
by 17 highburyterrace